Is Saxon Math Good for Teaching Geometry?
I am often asked about a particular homeschool curriculum. Sandy had a great question about Saxon geometry...
Lee,
We recently watched your Preparing to Homeschool High School videos in our homeschool group. They were great! I have a question about Saxon Math. My 10th grader is taking Advanced Math and has already completed Algebra 1 and 2. Do you have an opinion about Saxon and the way geometry is included? Would you suggest another route? My eighth grader has completed Algebra 1 and now in 2. I have 4 others coming along after these two so I'm wondering if this is the best route.
~Sandy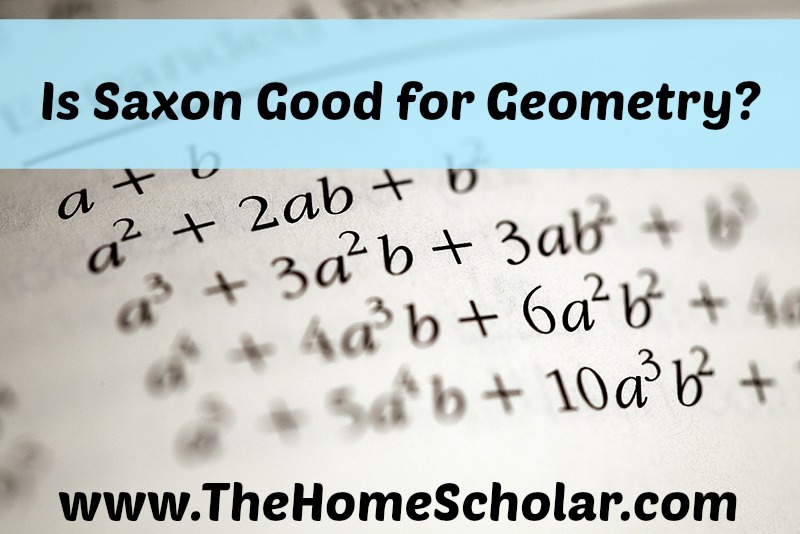 Is Saxon Math Good for Teaching Geometry?
This post contains affiliate links. If you click and buy I may make a few pennies, but not enough for a latte.
I think Saxon does a fine job with math, as long as the student tolerates it. My nephew is a high school calculus instructor, and he is a HUGE fan of Saxon math. The problem with teenagers is that you have to match their learning style AND their preferences. We may know their learning style, but only the teen really knows their own preferences. Check out
High School Math Without the Moaning: How to Teach High School Math at Home
and consider having your children look at another curriculum if they get stuck or frustrated or say they "hate" math. Be aware that all of your children *may* end up liking a different curriculum.
Saxon now has two different options. Their third or "Classic" edition incorporates geometry throughout the curriculum, but it isn't until Advanced Math that they get the bulk of geometry that is included in the SAT test. Advanced Math has a lot of geometry in it and the book states that it may take over a year to complete. Since your child is already taking Advanced Math, he should be ready to take the SAT in the spring of next year. We used Jacobs for Geometry in our homeschool, which is another wonderful program. It wasn't until I let my son choose the math curriculum that we switched to Saxon. Because my children had completed a separate geometry course, we were able to follow it up with Advanced Math as a pre-calculus course that only took one year. The other option is to use the Fourth editions of the texts, which includes a stand-alone Saxon Geometry textbook, with the geometry taken out of the fourth edition Algebra 1 and Algebra 2 texts.
It sounds like all of your children are VERY far ahead in math; good job following their lead! Include Algebra courses on their high school transcript, even if they are completed in middle school.  If you are looking for a supplement for geometry, because you're a family that loves math, take a look at
Patty Paper Geometry
. I loved having hands-on experiences for geometry proofs. It's NOT necessary at all, but it's a fun activity book for high school geometry that math nerds often enjoy. Our favorite supplement toward the end of the Saxon Math series was the Teaching Company Course called
Calculus Made Clear
. It prepared my children to handle calculus with understanding.

Please note: This post was originally published in August 2009 and has been revamped and updated for accuracy and comprehensiveness.
Do you enjoy our monthly newsletter, The HomeScholar Record? If so, please consider writing a brief homeschool newsletter review here, so others can find it. Thanks!
Stay Informed
When you subscribe to the blog, we will send you an e-mail when there are new updates on the site so you wouldn't miss them.