How to Prepare for an AP Test without Taking an AP Course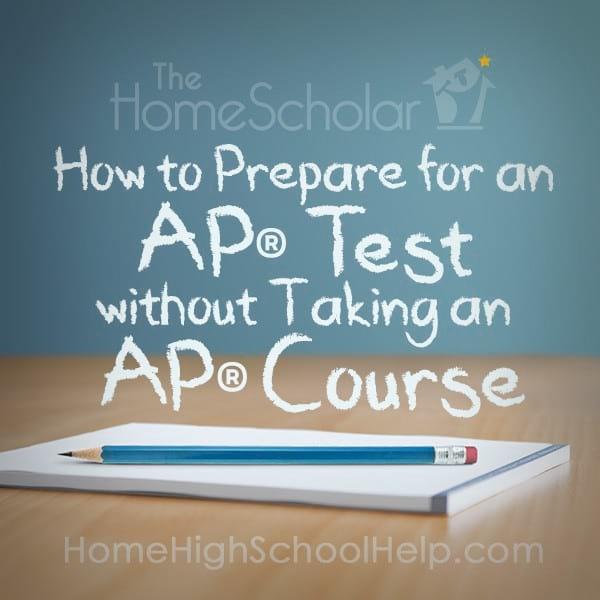 Anyone can take an AP test, even if they have not taken an AP course. The tests are really hard, really long, and the student needs to be prepared.
To prepare for those AP tests without taking an AP course, the secret is self-disciplined study and lots of test preparation.
1. Choose the right test.
Choose a test that matches the teens strengths, passions, and understanding and use a rigorous honors homeschool curriculum.
2. Carefully the College Board website.
Read the "Course Overview" to make sure it's a good test for you. If yes, read the entire course descriptions for each AP Test you might take, read the sample exam questions and test-taking advice.
3. Study Independently with the AP study book.
Use the study guide like a textbook, and highlight, underline, make handwritten summaries. I prefer Princeton Review Books.
4. Prepare with real practice tests.
Take 3 or more practice tests to be sure you'll get good score.
5. Consider a study group or tutor.
Discuss difficult material with someone else, so you are motivated to work consistently, and take practice tests together, timed.
Before taking the test for real, at the test location, but sure their practice test scores are excellent when taken at home. Without a good score, the test isn't going to help you. Learn more about High School Subject Tests with this free White Paper. "High School Subject Tests Simply Explained" will give you critical insights into AP, SAT and CLEP subject tests to maximize your college admission and scholarship chances. It's filled with tips for busy homeschool parents trying to choose the right test and prepare their students for test success.
SAT®, AP®, and CLEP® are trademarks owned by the College Board, which is not affiliated with, and does not endorse, this blog post or The HomeScholar, LLC.
Stay Informed
When you subscribe to the blog, we will send you an e-mail when there are new updates on the site so you wouldn't miss them.
Comments
No comments made yet. Be the first to submit a comment