How to Homeschool During a Family Crisis
Family crisis. It can happen to anybody at any time. Sometimes, crisis happens nationally (as we're experiencing with Covid-19) or sometimes it is in your immediate family. Are you prepared to homeschool during a family crisis? What is a homeschool parent to do?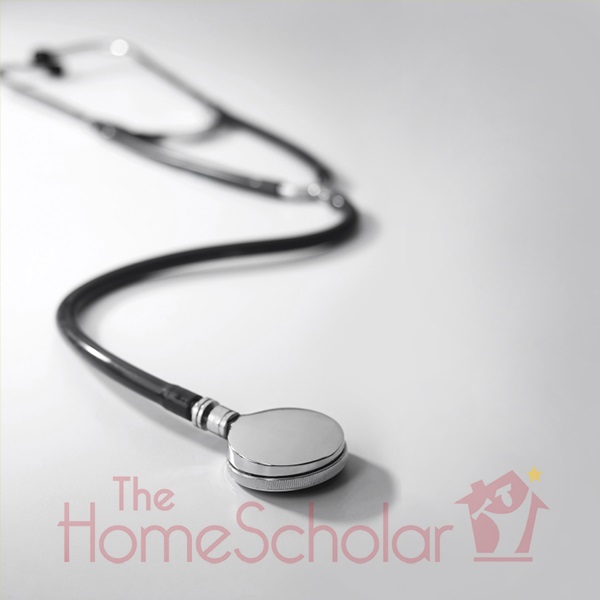 Everyone has them at some time or other. Even those perfect homeschool families, who show up at conventions in matching outfits, with perfectly-behaved children. Some kind of family crisis is likely to pop up, and get in the way of homeschooling. Of course, whether you're homeschooling or not, a crisis can happen. Just because you are homeschooling, that doesn't make a crisis worse. A crisis is a crisis. It's a trauma to the family when things go wrong, regardless of the schooling choice you've made.
Fortunately, there are things you can do to help your family weather the storm, and stay on track with your homeschooling.
Keep it simple.
It's ok to take a break when you need to or simply relax what you're doing in your homeschool. Spending time wishing things were different, or trying to push through a tough time by keeping the same pace you normally do, only sets you up for failure and heartache. Scale it back and breathe. The time you spend taking care of your family during the crisis is time well spent. There will be time for catching up and dealing with what you feel is, or was, lost time.
Cover the core when possible.
If you are having a family crisis, try to cover at least the core subjects whenever possible. I admit, sometimes it's not realistic. When possible, covering Math, English, Social Studies and Science will still give you a reasonable-looking transcript at the end of the year. Try and pay special attention to finishing Math every year, even if everything else goes by the wayside, so that your child won't get behind. It's easy to quickly finish other classes if you need to, doing the minimum requirements, but there's no way to speed up math.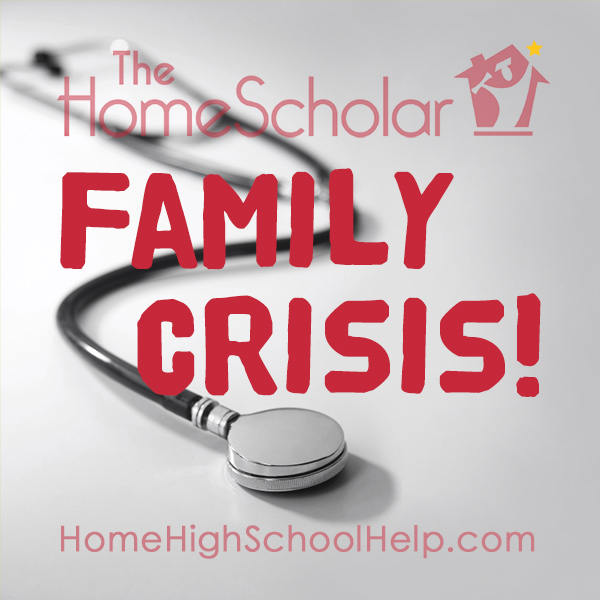 Prepare ahead during freshman year.
You can be prepared for the unexpected. You never know if your family might have a crisis at some point in your homeschooling. Make sure that you cover all the important subjects starting at the beginning of high school, in your student's freshman year. Don't wait until senior year to cover fine arts! Cover them all when you can, from the beginning of high school. That way, if something does come up, your student will be more likely to have completed their coursework by senior year.
Don't be afraid to keep some structure.
All kids do better with some amount of structure. Whether the structure you have is school related or not will be up to you and your current crisis situation. However, it's ok for kids to be expected to continue to get up around the same time they normally do, brush their teeth, etc just like nothing out of the ordinary is happening. Maybe you even try to keep a reading time during the day when everyone can be quiet together or chores that are done at the same time each day. Structure will help your children feel normalcy. If you have older children, enlist them to help you take care of the younger ones and help them to stay on a schedule, as well. A family crisis involves the entire family. And, that's ok.
Get support when you need it.
It is absolutely ok to rally the troops. We all need help ocassionally! You can get ahead of meltdowns, from you AND your children! Find ways to help members of your family calm down when needed. For the adults in your family, that might mean calling on your village to provide your family with a meal or help watching the kids or cleaning the house, down to understanding when your children are emotionally spent and needs help finding a way to calm themselves. It is ok to ask for help. Build your support group now, whether that's extended family or friends that feel like family. You'll need the support sometime.
Of course, family emergencies are not the only reason why it's important to be prepared and to work ahead. Sometimes seniors in high school will put their feet into the sand and not budge when you try to convince them they need to take a foreign language, or a second year of fine arts. By planning ahead, you might not have to struggle with your teen quite as much. Be prepared, and any crisis will be much easier to weather.
If you need personalized help, join my
Gold Care Club
. You'll get weekly, personalized help from me. 'I have helped many families weather storms and I can help you, too.

Comments
No comments made yet. Be the first to submit a comment