How to Change a College Scholarship Policy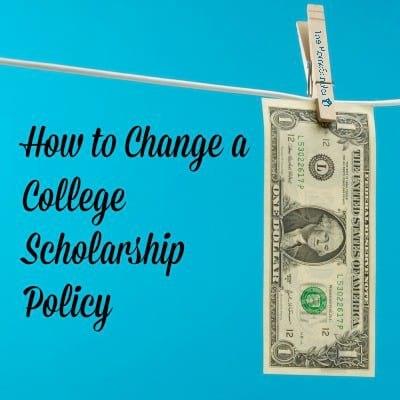 Here is the problem. Colleges all have very unique, very different policies from one another. In addition, college admission policies can change over time, sometimes quite suddenly, it seems. That's why half the time the answer to a specific question may be "check with the college where you plan to apply."
Learn more about college admission policies in my book: College Admission Policies Demystified

Here is the solution. Create change. Be a change agent. Be proactive. Make the change happen by being assertive and asking for change. Simply asking them to change their policy may make a better situation for your child - and maybe for all other homeschoolers, as well.

Here is how one student took matters in her own hands, and became socially active.
"University of Louisiana at Monroe (ULM) is the school that gave my daughter Sandra a full 4-year scholarship (their President's Distinguished Award). She is set to graduate this May, at age 18 and debt free, with a B.A. in Modern Languages, French Concentration. Attached is her high school graduation picture, and a photo of the whole family, either of which you have permission to use if you wish.
I had learned with Sandra's older sister Nattie that many schools that offer attractive scholarships for on-ground students based on SAT scores etc. offer little or nothing to online students. As a National Merit Finalist, Nattie qualified for an automatic full tuition-plus-room-and-board scholarship at Liberty University. When she contacted the school, she was told the scholarship was only available to residential students and that they would offer her NO SCHOLARSHIPS for online study.

Knowing this, and knowing that my daughter Sandra wanted to pursue her degree online, I had Sandra contact ULM prior to applying to the school to make sure their President's Distinguished Award was available to online students. The ULM scholarship office told her that it was, so she applied. After the school awarded her the scholarship, ULM sent Sandra the scholarship contract indicating it would only be available if she was a residential student.

Rather than give up, Sandra wrote to the University Vice President in charge of the scholarship office. She respectfully explained that the scholarship office had represented that the scholarship would be available to an online student, and that she had relied upon that information in not pursuing other schools or scholarships. She further explained that, while she was sure ULM had a lovely campus, she was only 16 years old and that neither she nor her family thought it in her best interests to live on campus at that age. Finally, she included a copy of her graduation announcement, which included the photo above and stated that she would be attending ULM, to personalize her appeal. Thankfully, the Vice President decided to make a one-time exception and allow Sandra to use the scholarship for her online studies.

The lessons:
​Be aware that schools may distinguish between scholarships available to residential versus online students. Contact the school and find out what their policy is.

​

Keep track of who you spoke to and about what, so you have a record if you need it later.

​

Never be afraid to respectfully appeal to school administrators for a favorable result. You never know if you never ask!

​
Thanks again for all your help Lee. I continue to apply what I've learned to try to set up my 4th and final child for success as he transitions to college in a few years. And (you should be proud), I've actually started his high school transcript as he goes, rather than waiting for junior or senior year!
​"
It's true! Being assertive can change a homeschool policy! They can be reasonable if you speak reason to them.
Stay Informed
When you subscribe to the blog, we will send you an e-mail when there are new updates on the site so you wouldn't miss them.
Comments
No comments made yet. Be the first to submit a comment