One of the great things about homeschooling is that you can tailor your school to meet the needs and interests of your students.  To do that, you need to think outside the box a little bit.  Once you do that, all things are possible!   Even speech and debate!
I have another question for you.  Are there ways outside of a school setting to get a child involved in a debate club or with public speaking, other than in a church setting?  I am looking for more of a debate setting where they will be forced to compose arguments and think on their feet, not just give a prepared speech.
~Judy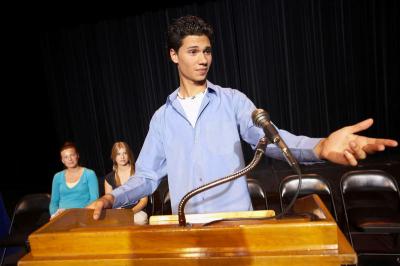 Speech and debate can be done in group settings with some of the following ideas and organizations:


American Legion Boys State


TeenPact


YMCA Youth & Government


National High School Mock Trial


Speeches as part of college scholarship applications; e.g. Veterans of Foreign Wars, Elks Club


Speeches as part of an adult group:  Toastmasters


Speeches as part of regular activities:  teaching a class to small or large groups


Debate with a local homeschool group; google your city, and the words "homeschool debate"


Develop a group of teens to discuss current events, perhaps all listening to the same talk radio show prior to meetings


You can also study about debate during the "down time" when not actively involved in a group.  Some of the more popular programs include:
Practice can be achieved by regularly memorizing and presenting prepared speeches to friends and family.  Perhaps weekly you could ask the student to memorize scripture, poetry, or famous speeches from the past.
Memorize famous poems to tie in with your study of American or British Literature.  My favorite source is
A Treasury of Poetry for Young People
Memorize famous American speeches to tie in with your study of American History or American Government
Famous American Speeches: A Multimedia History, 1850 To The Present (CD-ROM)