Sometimes combining subjects works perfectly.  Other times it can be best to separate subjects.  My best advice is always do what works - and if it doesn't work, then try something else.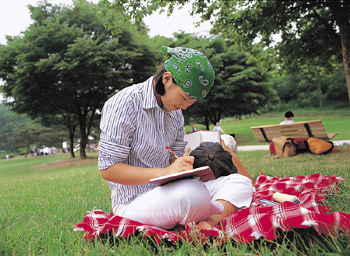 My 13 yr old son can recite to me things he has learned or read but when I ask him to write a paper on it, he freezes up and the knowledge simply never makes it on the paper. It's like his brain knows it but it stays there. I have tried several different methods of writing and he knows them all but somehow the writing aspect doesn't come through. Please advise me on your ideas or thoughts.

Thanks, Melba
Hi Melba!
Boys often seem to have trouble getting thoughts on paper - I think it has something to do with them usually being not as verbal as girls, in general.
Try teaching him to write as a separate subject, apart from his reading. In other words, evaluate his other subjects verbally or with tests, like you are doing. And when you teach him to write, don't require him to do it with his other subjects just yet, until he gets more comfortable with writing in general.
Have you tried to teach him typing? Sometimes that little bit of technology can help.
I have heard good things about Write Shop, Write at Home, Brave Writer, and Institute for Excellence in Writing.
You might enjoy a few other articles about writing than could help you:
Perfect English Evaluation
?
High School English: A "
Grouch Free" Guide to Grading
"

God Bless you Lee. You are amazing, Why? Because you answer questions that homeschoolers are always asking and can never really get a good answer. But you give us so much more then an answer, you give us hope, suggestions, and encouragement.

Bless you and family,

Melba