Free Resources Help Marie Earn $27,000 in Scholarships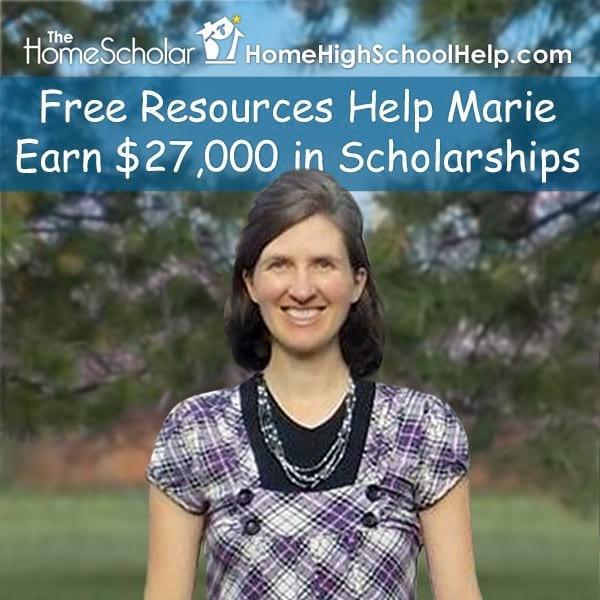 Do you like free stuff? Marie does - and it's made a HUGE difference in her life to read my free eBook.
"Hi Lee, I've used your site often since I began homeschooling high school, and now my oldest is on track to graduate in June. I just read your e-book Focus on the Future and had to write and thank you for all of the information and encouragement! It's been so great to have your practical help (a few years ago, I even talked to you on the phone) and reassurance. My son nailed the ACT (34) and is planning to attend a private college. The sticker price is $36,000, but already the college has given him $27,000 in grants and scholarships! Thanks so much for your support!" ~ Marie on Facebook
The Ebook Focus on the Future is a free, instant download for YOU, the homeschool parent, to encourage you to go the distance with confidence.
This free book will give you tips and tricks for:

Writing perfect course descriptions



Handling the end of homeschooling

Preparing your child for military careers after homeschool

Navigating the 9 steps to high school graduation

Guiding struggling learners to college

Taming your middle school anxiety

Inspecting your senior's progress with a checklist

Evaluating if you are cooped up in a homeschool co-op

Learning how to put co-op classes on homeschool records

Translating your homeschool feelings so your spouse understands

Learning to answer friends who don't support homeschooling

Plus you'll get other online resources for homeschooling!

Stay Informed
When you subscribe to the blog, we will send you an e-mail when there are new updates on the site so you wouldn't miss them.
Comments
No comments made yet. Be the first to submit a comment