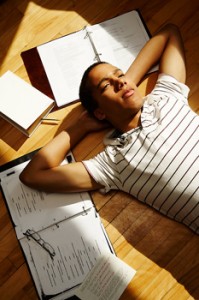 There are two big college survival skills you need to teach your children before they leave home.
#1 How to Study
A big key to high school success is to make sure that you teach your students the skills that are necessary for college survival. Before my sons were seniors in college, I would have said that the most important college preparation skills were note taking, public speaking, and essay writing. I asked my sons what I should say to people who are preparing their kids for college, and they told me that parents should teach their students how to study. This is a really important skill for college, especially for gifted homeschoolers who never had to study in high school.  Teach your students how to study, because it's just as important as the things you typically think of for college preparation.
#2 Why to Sleep
To be successful in college, your children must learn the importance of sleep. I heard college lectures about students who didn't sleep, and never thought it would happen to my children, but of course it did. I think a great solution to this problem is to have your child write an essay every year in high school about the importance of sleep. Perhaps they still wouldn't sleep when they got to college, but at least you wouldn't have to nag them about it because they'd already know.  Their brains won't function and their body's will fall apart if they don't sleep.  Don't let them learn it the hard way!

Are you on Twitter?  Follow me here!