College Application Essays for Homeschoolers
College application essays take time and effort - they don't just happen overnight!  Take some time to learn about them now.  You and your children can practice some application essays now - BEFORE senior year - and make your life that much easier down the road.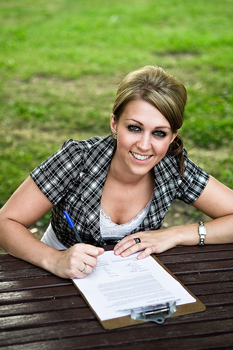 What's the big deal about a little essay?  If you have ever faced resistance from your children about a writing assignment, boy are you in for a treat! You haven't experienced what trouble means until you try to get them to write their College Admission Essays.  The essay they write for college has to be technically perfect (which is hard) and filled with self-examination (which is even harder.) Prepare yourself for that task and read this article about college admission essays so you really know what you are doing and when to do it!  "
What's the Big Deal about a Little Essay
?"
College applications are about much more than just writing an essay. It includes the application forms, letters of recommendation, transcripts, course descriptions, and submitting test scores.  It can be a little complicated.  One of my young friends wrote an article about the things she learned in the college admission process.  Encourage your children to read Lara's advice to other young people in her article "
College Application for Homeschool Students
." You'll get some great ideas too!  Thanks again, Lara, for sharing your suggestions with other homeschool students!

Your best strategy for keeping all those balls in the air is preparation.  The HomeScholar Gold Care Club will give you the comprehensive help you need to
homeschool high school
.
Stay Informed
When you subscribe to the blog, we will send you an e-mail when there are new updates on the site so you wouldn't miss them.
Comments
No comments made yet. Be the first to submit a comment