Applications, Course Descriptions, and Questions
Start your college applications early.  It can be complicated, and questions can come up.  Read how it took this mother weeks to prepare detailed course descriptions. Plan ahead, like Leanne.



Hello, Lee-




I have been working for weeks now preparing detailed course descriptions (like yours in your publications on the subject). I take my son to Grove City College next week for an interview.I was wondering about a course that you really only have a pass/fail grade for. I noticed you had one like that (Driver's Ed) and still gave your son a grade.






My son attended Worldview Academy and did a lot of worldview/apologetics elsewhere, too, that I am combining into a course. Unfortunately I have no "analysis" grades for this course (no papers, reports, tests, etc.) other than a test he took at Worldview, which was extremely challenging and which he didn't get a great score on! He did well enough to still get 2 credits from Oklahoma Wesleyan University as a "Pass" for attending Worldview, however. I doubt Grove City will accept those 2 credits, but I thought I'd put the exam under Analysis as a "Pass" (and the fact that he received those 2 credits) along with Reading: 100% and Participation-Attendance and Discussion: 100% as the other 2 categories on the course description and give him an "A" for a 1/2 credit class. I just don't see him writing a paper anytime soon that I could count.






Also, do you think it's all right to organize the course descriptions in a binder by subject? (rather than by grade taken?) Please pray that the interviewer will accept the binder and allow us to leave it there to be referred to after Evan applies to the school. I think I would scream, "Do you realize how much time this took?!!" if they said, "No, thanks".






Thanks for your invaluable advice.






Sincerely,






Leanne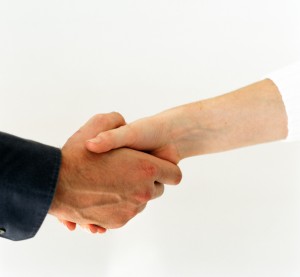 Dear Leanne,


I hope you have wonderful success at Grove City!  They are a great, homeschool friendly college, and I don't anticipate you will have any trouble.


In general, I don't recommend pass/fail grades.  I did it myself, but since then I've learned more.  Some college will use pass/fail classes in their GPA calculations, and may randomly assign a C (or even D) to the class.  For that reason, I often suggest parents either apply a homeschool grade or leave it off the transcript.


If colleges are going to use your comprehensive record, then having it by subject will be easier for them to use.  I like that idea.


The interviewer is MUCH more interested in meeting your son that reading the records.  The records are evaluated when they are looking at the total application. If they look at your records, that's a bonus, but this interview time is about your SON and not about his SCHOOL.  Does that make sense?  When they interview other students, they aren't looking at academics, they are looking at social and non-tangible skills.  Have him dress clean and neat, look the interviewer in the eye, and shake hands firmly.  Come prepared with some questions about the school. Have a mental list of things that he can say about himself.  Parents should generally stay FAR out of the way.  They are trying to determine how your son will do alone on campus - so letting him be alone on campus during the visit will help.

Learn the SECRET to getting your student placed at the TOP of the stack for college admission consideration as well as one of those MASSIVE university scholarships.  Get the
Comprehensive Record Solution
!
Stay Informed
When you subscribe to the blog, we will send you an e-mail when there are new updates on the site so you wouldn't miss them.
Comments
No comments made yet. Be the first to submit a comment