Accredited Online High School
Accredited Online High School
It's that time of year again, when parents are looking for a great school for fall. Some parents are looking to online schools. Let me tell you what you do NOT need as you are searching for the perfect school.


State certified teachers - because you know your child best, you are best equipped to guide your child.


1:1 approach to education - because that's exactly what homeschooling is like, the very essence of homeschooling, but we can choose the   approach that is best for out child.


Accredited - because not all public or private high schools are accredited, and colleges understand that.


Credit recovery course - because we already have that, and call it call that "delight directed learning".


Competitive advantage - you can do that at home, too, with a little research. (I suggest The HomeScholar Guide to College Admission and Scholarships)


Online - because online learning is NOT optimal as a primary source of education, but is best used as a supplement.


State approval - all states have laws that provide for independent homeschooling.


High quality curriculum - it's high quality when it fits your student, not just because someone says that it's high quality.


Flexibility - there is NOTHING as flexible as homeschooling.


Affordability - there is NOTHING as affordable as homeschooling.


Self-paced - again, that is the very essence of homeschooling - the best part of homeschooling!


I got this question on Facebook recently, asking my opinion of online schools.
I was curious to see if you are familiar with any accredited online high schools or universities? If so, what are your thoughts? Are they a viable education alternative? ~ Andrew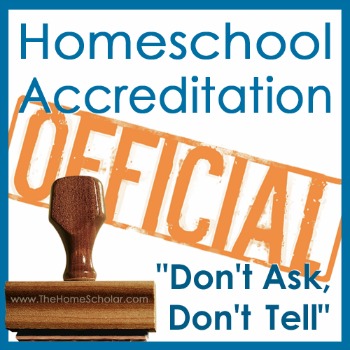 This article explains accreditation: Homeschool Accreditation. There are major problems I see with online high schools.
Teens should have only 2 hours of technology per day, according to the American Academy of Pediatrics. Any online school goes FAR over the acceptable limit on time spent online. Learn more about technology use and guidelines in my book: TechnoLogic: How to Set Logical Technology Boundaries and Stop the Zombie Apocalypse.
When families sign up for those schools, they own you. Because they are accredited, they must do certain things to maintain their accreditation, and all those things make it very difficult to homeschool naturally, and at the same time they dramatically increase the record keeping requirements of parents. Learn the easier way to create a homeschool transcript: FREE Webinar on Grades, Credits and Transcripts
Online schools are business that make money when parents feel incapable. Their ads and offers imply that homeschooling independently is "less than" their schooling options. This article explains more. Parent Partnership Problems - Love with Some Strings Attached
Some online schools are not accredited, or are viewed as diploma mills. It can be very difficult to know which is which because those schools continuously change their names. Read the Federal Trade Commission Report: These online high schools didn't make the grade
There are legitimate reasons why some parents choose other educational options. I believe that parents know the needs of their children best. At the same time, I get frustrated with online high schools trying to convince great homeschool parents that they are 'less than" in some way. You aren't!
You can provide a perfect-fit, academically rigorous, college-prep or career-track high school at home, and it can always meet the needs of your child with maximum flexibility on a day-to-day basis.
I wrote this book to help parents learn how to homeschool independently, without accreditation or online schools. If you are thinking about homeschooling independently, and you want to know what it's all about or how to begin, check out this small, inexpensive book on Amazon. You can read it during your coffee break, and you'll know what homeschooling independently really means!
How to Homeschool Independently: Do-it-Yourself Secrets to Rekindle the Love of Learning
Stay Informed
When you subscribe to the blog, we will send you an e-mail when there are new updates on the site so you wouldn't miss them.
Comments
No comments made yet. Be the first to submit a comment