December 2017
By Lee Binz
The HomeScholar
***Please note that as of January 2021, The College Board has discontinued SAT Subject Tests® and the SAT® essay.***
If you have ever faced resistance about a writing assignment, you are in for a treat! You haven't experienced what trouble means until you try to get your child to write their college admission essays. These essays written for colleges have huge consequences for both admission and scholarships. Each essay must be technically perfect (which is difficult) and filled with self-examination (which can be even harder).
So today, prepare yourself for the task! Read this article about college admission essays so you know what you are doing! You'll learn the keys to get your senior the best scholarships, and gain tips you can use with your freshman to plan ahead for this important job.
What's the big deal about a little essay?
What's so important about a short college admission essay? All colleges want is a perfectly written, compelling, but also truthful, 500-word essay demonstrating thoughtful self-reflection. Is that so difficult? Yes! Are they serious? Yes! In fact, a quality essay can be rewarded with huge scholarships. An "optional" essay is not optional for parents relying on scholarships to make college affordable.
The college application essay is important for 3 reasons:
1. Each essay is self-reflective and personal. It can be challenging, but it's written in first person (using I, me, my, our). It answers the question, "Who are you?"
2. Each one is a technically perfect, descriptive essay that includes language creating vivid word pictures. It answers the question, "How well can you write?"
3. Each essay should be college-specific. The student will write the answer to a unique question or prompt provided by each college to describe how the college will meet their goals. It answers the questions, "Why should we admit you? Are you a good fit for our university?"
If you have a high school senior, college admission is looming large. It's a huge job for everyone, and quite stressful. You can't just wiggle your nose and presto, there's a self-reflective, technically-accurate, college-specific piece of thoughtful prose. The essay is the key element of the application. College application essays take time and effort - they don't just happen overnight!
Take some time to learn about these essays now. You and your children can practice some application essays before senior year, to make life easier down the road. Should push come to shove, these "just for practice" application essays can be used during the senior year application process. Junior year is an excellent time to practice essays within your English program.
As you search for colleges, attend college fairs, and visit university campuses, you can collect essay topics for universities you and your child are interested in. College websites will usually list application essay topics, and they don't usually change much from year to year. Some colleges will ask for only one essay, and others will ask for several. As you collect essay questions from different colleges, you will notice some common themes. Recognizing these commonalities will help you reduce the overall number of essays the student needs to write. With careful planning, a student who needs 15 essays may only need to write 4, due to overlapping topics.
Before senior year, have your student practice writing college admission essays as part of their English writing program. When they reach senior year, you'll have many essays from which to glean ideas. Grab this free downloadable list of 75 typical application essay topics you can use for practice throughout high school in English classes. Download 75 Free Application Essay Prompts Here.
11 Keys for Compelling College Admission Essays That Earn Scholarships
1. The Essay is a Selfie
Each college admission essay is like a self-portrait of your child. To provide a full portrait of a person, you need more than one picture from three different angles. For photographers out there, this means three costume changes, three background choices, and three different props! If a college asks for three essays, make sure you give them three different portraits. Each essay should be a completely different perspective on your child.
Let me put this in terms a teenager will understand. If the teen loves robotics, only one essay mentions robotics or engineering. If your child loves animals, only one essay will mention any kind of animal, or any career involving animals. My child loved economics, and he was only allowed to mention economics in one essay.
2. Paint a Word Picture
Think of a photo of your child that is meaningful to you. We have a picture of my smiling son on his bike, my husband running after him with his hands raised toward the sky. The photo screams "success" and was taken when Kevin rode his bike without training wheels for the first time. This picture is the kind of essay to write.
The essay is a word picture about the student, written by the student. It is a first person singular short story that is true. Yes, your student has to use the word "I" in this essay. They need to think of a specific moment in time, when they have a special photo, and describe it in words. This can be the introduction.
3. Make Grandma Gasp
The perfect essay will start with a surprising or shocking story or event that will grab the person reading. Have your child think about a single moment in time, perhaps the moment a picture was taken, and try to tell a story that would make Grandma gasp if she heard it. The goal is not to make Grandma blush, so don't let them go over-the-top! This "hook" for each essay could be the moment of impact when a close relative became deathly ill or injured, or the most shocking thing seen on a mission trip, mountain-top, or once-in-a-lifetime experience. Your child's short, personal, true, descriptive, creative writing essay will be different than these suggestions, of course, so encourage them to be unique! A child might write about seeing a goat being born, surviving a natural disaster, or experiencing an eye-opening event. What story has made their grandparent gasp? Don't be appalling, but begin with a moment so unique that the reader will continue the essay to the end, and remember your child when they finish.
4. Never Repeat Anything
Never let your child repeat anything they write to a college. Each essay is unique, and nothing should be repeated between essays. If they mention the word "chess" in one essay, don't let them use the word in another essay to the same college. If they refer to Thomas Jefferson in one essay, don't let them use his name again, no matter how much they want to!
It bears repeating; never repeat anything. In addition, don't repeat anything found in another place on their college application. The essay should never be used to summarize their transcript or academic record. Don't mention grades, course titles, grade point average, or test scores either. These are found on the application already.
5. Modify for Each College
Your child needs to demonstrate interest in a college for an application to have value. Demonstrating interest in a college takes time. Colleges want to know you have spent some time on campus, are truly interested in their school, and if your child is admitted they are likely to attend. Once they have written an essay, your child can modify it slightly to match each college they are applying to. Add details about the college visit, and the people they met there. Have your child mention how eager they are to attend, or specific things they are looking forward to doing there. Before you submit the essays, make sure they have the right college details on the right college essay! Make sure they do not mention Dartmouth when sending an application to Yale! It would be like sending a love letter to two people, but getting their names reversed, which would not bode well for either relationship!
6. Create a Love Letter
The love letter analogy mentioned above is close to the truth. An essay is a love letter to show genuine appreciation for each unique university and why they are a perfect fit for the student. At the same time, this love letter should convey why the student is a perfect fit for the college. Yes, your child is telling the college all about themselves, but in a way that is endearing, not a turn off. They shouldn't appear narcissistic, but don't let them discount their abilities.
It's not easy for teens to write glowingly about themselves without bragging. The antidote for this is honest self-reflection, with perhaps a dash of self-deprecating humor. Colleges know your child isn't perfect. They should never leave the impression that your child thinks you are.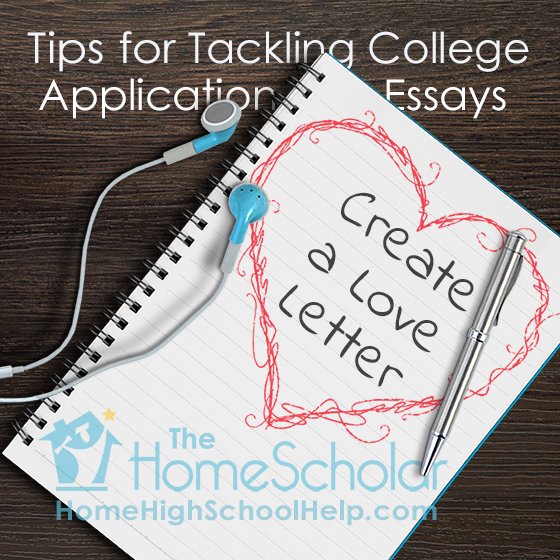 7. Be Authentic
Above all, colleges are looking for something real. Encourage your child to be authentic and truthful in every essay. A diamond may be "in the rough" but it beats a rhinestone every time! Being honest and real means being a character who is unique in some way. In this regard, homeschoolers have a distinct advantage over their public school peers. Homeschoolers have had tremendous freedom in the high school years to seek outlets for their areas of interest. This, by definition, will make your child stand out from the crowd. Your job as parent is to help them to first discover and then communicate their uniqueness to the world.
8. Brainstorm Topics Together
Parents and teens should work together to brainstorm ideas for each essay. The topics are written by adults but read by teenagers. Think about the communication issues you may be currently facing with your teen and you can see why this might pose a problem. When faced with questions such as, "Tell us about your experiences with diversity," my teens thought they had nothing to say. Their reasoning went something like this, "I'm a white guy. Duh!" We read the topic and discussed it together, explained what the question meant, and brainstormed some possible experiences that might be described as diverse.
Older teenagers often want to do everything themselves, but college essays require input from parents. Brainstorming can help, as an idea-generating technique to all call out spontaneous ideas, without evaluating each idea as they are shared. Nothing is too silly or far-fetched to be suggested. It's a great way to think outside the box. Review your transcript and activity list, and look over your calendar for the past year or two. After generating ideas, circle ideas that might work. Only assign each idea to a single essay.
9. Edit to Perfection
College admission essays help each college get to know your student, but they also evaluate how your child writes. The essay must be technically perfect. Parents and another adult should help edit the paper. It is sometimes difficult for teens to accept feedback, but this is extremely important. Remove redundancies, cut down the fluff, and keep the meat. Each essay must have perfect spelling, punctuation, verb tense, and grammar. Point out any errors, and give suggestions for improvement, but allow the student to correct them. This will help the essay to retain the student's voice, which is how the college will get to know them.
10. Retain a Teen Voice
Because it is a portrait of your child, it needs to have your child's voice. The "voice" of writing is the author's personal style. It is what makes their writing unique, and conveys their attitudes, personality, values, and character. Voice is how colleges will know if the essay was written (or too heavily edited) by a parent. Believe it or not, teens don't write like adults. For those who live in the world of application essays, this distinction is easy to detect. Plagiarism is a huge problem in high schools and colleges – even among homeschoolers. Don't even be tempted to copy an idea, phrase, or paragraph from an essay sample. Colleges routinely screen essays for plagiarism and immediately reject any student suspected of pilfering words from others.
11. Practice and Plan Ahead
Planning ahead can make any difficult task easier. Practice college application essays before senior year. When attending a college fair during 10th and 11th grade, grab some application packets to use their essay topics. Instead of your regularly scheduled writing topics, use college application essays for writing assignments during the year. Save these practice essays. In case of emergency (writer's block, health emergency, or sheer obstinacy) you can use essays written prior to senior year. Practice and advance planning will make senior year so much more pleasant! Download 75 typical application essay topics free.
Conclusion
Colleges want to know your student can communicate in writing. Four years of English on a transcript does not mean a child can write well. Colleges see a great activity list, but may not be sure which activities are real, passionate interests. By requesting an essay, colleges can learn who students are (or who the student thinks they are) and determine their true writing skills. College applications are about much more than a writing assignment. They include long application forms, collecting letters of recommendation, homeschool transcript, thorough course descriptions, and test scores. The process of applying can be complicated. For more help with the entire application process, check out my suggested resources below.
Tips for Tackling College Application Essays
To share this infographic, grab the embed code below!
Recommended Resources

"Super Scholarships for Humble Homeschoolers"
Free Class!

You can afford college! How? I want to show you how to earn BIG merit based scholarships you thought were reserved for the uber-intelligent or Olympic-level athletes. These scholarships are available for homeschoolers, even kids that are academically or athletically dis-inclined. In fact, one of the best ways to position your kids for these scholarships is by leveraging the educational benefits available EXCLUSIVELY to homeschoolers.

In this class you'll learn why merit scholarships provide the most money. I'll teach you which college admission test is best, the SAT® or ACT®, and why. I'll show you how to make SURE your child will stand out above the crowd, regardless of their gifts or challenges. You'll learn how to find a college that gives great scholarships, and the secrets to creating homeschool records that will reduce college costs.

---

College Application Essays: A Primer for Parents
(Coffee Break Book) [Paperback or Kindle Edition]

The high school home stretch can be particularly stressful for homeschoolers and their parents. If college is in the future, parents worry about how their students will do when writing those intimidating application essays. If multiple universities are being considered, the problem just compounds itself.

Lee tackles your toughest questions and shows you how to "project manage" your way to application essay success! It is not enough for parents to take a totally hands-off attitude toward these all-important essays, nor is it advisable for them to take total control of the process. The trick is finding that balance, and that's where Lee can help!

---

The Comprehensive Record Solution

College admission is extremely competitive! Comprehensive records will set your student apart. The Comprehensive Record Solution is geared for parents who know they need to do more than "just a transcript." It will enable you to create the transcript, but the focus is directed at much more, such as course descriptions, reading list, activities and award list, and work samples---all the elements that go into a "comprehensive" record.

With The Comprehensive Record Solution, you will be able to create high school records that win college admission and scholarships, step-by-step training and cut-and-paste simplicity and four document reviews with Lee - so you will know your records are done right!
Copyright © 2017 The HomeScholar LLC, https://www.homehighschoolhelp.com. Text may be reprinted without permission if used in full, except for use in a book or other publication for rent or for sale. Reprint must include this copyright, bio (below), and the original URL link (https://homehighschoolhelp.com/tips-for-tackling-college-application-essays).
Lee Binz, The HomeScholar, specializes in helping parents homeschool high school . Get Lee's FREE Resource Guide "The 5 Biggest Mistakes Parents Make Homeschooling High School" and more freebies at https://www.HomeHighSchoolHelp.com/freebies.