Prepare Your High School Student


For Their College Launch!
6 Reasons Homeschoolers Have the Advantage on College Admission Tests
Your normal, natural homeschool can be successful when you cover core literacy and find a way for your child to succeed to the best of their ability in college admission tests. These are the six reasons homeschoolers have the advantage when it comes to college admission tests.

1. Your child can choose not to take the SAT and find an alternative

The SAT is a standardized college entrance exam, but it's not the only test available. Only a portion of college-bound students take the SAT and there are alternatives.

Public schools typically offer one college admission test - either the SAT or ACT. Statistically, a third of students do better on the SAT, a third do better on the ACT, and a third do equally well on both tests. Geographically, students on the coasts tend to take the SAT, and students in the middle of the country take the ACT. Genetically, boys do better on the SAT and girls do better on the ACT. Wise parents understand that statistics are not always right and may not apply to your child.

Homeschoolers have the advantage when it comes to college admission tests because we can choose the best test for each student. One of my clients' daughters earned a full scholarship plus room and board, plus books and expenses, plus a $600 stipend to attend her first-choice college. Her mom said she was thankful for my help, so I asked her what was the most helpful. She credited my advice on sampling both tests. She would never have guessed her daughter would do better on the ACT. But she tried my advice and pre-tested her daughter, then had her take the ACT instead. Most students do worse on one of the tests, so even if your child doesn't test well, it can still save you money. Once you have decided which test makes your child look like a genius, prepare them for that test.

Your child is not limited to one test. As a homeschooler, you can choose the best test for your child, instead of the one test offered at the local school.

2. You can adopt a relaxed attitude to avoid test anxiety

You want to give your child the soft skills of test prep - filling in bubbles in a timed situation among strangers. But try to determine how many practice tests will provide these soft skills and how many will begin to backfire on your child, making them more anxious. This varies by child.

I do not recommend test prep for younger students, for a variety of reasons. It makes them anxious​ about the test or their own performance, causing test anxiety that is stressful for parent and teen​. Test prep can cause comparisons with other families and children, making your child feel inadequate when they don't get a perfect score, or magnifying problems with perfectionism​. These tests don't measure what kids know, only what they do not know​. You are working to educate your child, not test them​. Plus, tests are too much like public school​.

Parents need to know a grade-comparison of their child, which can be achieved through a simple standardized test. I do suggest giving your child a grade-level, end of year test. Taking a grade-level test with a group of homeschoolers is perfect. They'll get comfortable filling in bubbles while a timer is going and sitting next to other kids. But don't waste time making your child study for an annual assessment. You don't need to know how high they can possibly test with study​ - that's a lot of work for no benefit​.

In middle school and early high school, the best test preparation is educating your child in reading, writing, and math. Vocabulary games and workbooks, daily work in math, and reading real books are strategies that will improve test scores in high school.

I understood that studying for the SAT test was necessary for college admission and financial aid but, like many homeschool parents, I was frustrated that I had to teach to the test. My teenagers were also resistant. But the tests measured basic skills, and of all the things you want for children, reading, writing, and math skills are high on the priority list. Now that we are on the other side, we can all see the benefits of preparation!

3. You can focus on literacy instead of tests to produce well-educated adults

Let's review what's on the tests: reading, writing, and basic math skills. Of all the things you want for your child, you must admit that reading, writing, and math are high on the list.

Before high school begins, you can prepare for the SAT by providing a quality education that includes reading, writing and arithmetic. Penmanship is important as well, since the SAT's optional hand-written essay (which I recommend having your child take) is seen by colleges. You can give your child the advantage on the SAT test when you provide your child with a quality, well-rounded education.

Public school students may have trouble finding time to prepare for the test, but for homeschoolers, it can be a part of their total educational experience. In 10th or 11th grade your child can transition to test preparation.

Refreshing math skills can be helpful for a struggling student who might benefit from a regular review of concepts. The math section can also help an advanced student who may not have seen beginning concepts for many years. The reading section includes a lot of vocabulary students need to succeed in college. Instead of buying a vocabulary curriculum, you can use SAT preparation for vocabulary studies. I have to confess that the writing section, with the essay, is my favorite part of the test. Essay writing is crucial to success in college. My youngest son thanked me during his first month of college for teaching him to write a quick essay.
4. You can use homeschool ninja skills to motivate children to study

You have motivated your child to learn other things, so why not motivate them to learn how to prepare for tests, too? Use your homeschool ninja skills in test prep.

Use sweet treats

A shameless bribe (with culinary sweetness), can motivate your child through sample tests at home while you determine which test is best for your child. I find the SAT pairs well with chocolate chip cookies, the ACT is awesome with brownies, and the CLT is clearly the best fit for chocolate cake. Your experience may be different, but tying a sweet treat to a sample test can help you determine if the SAT, ACT, or CLT is the best fit for your child.

Seek accommodation

If your child has a learning disability, motivation isn't the issue – accommodation is the key. Students with learning disabilities or learning challenges can get accommodations for the SAT and accommodations for the ACT test to allow them to succeed. They may be able to simply take the test untimed or even get a reader or scribe. Achieving accommodations for the test is hard, but the benefits can be long-lasting, allowing students to gain accommodations for college work as well. For more information read College for Struggling Learners.

Set a timer

In our homeschool, my kids worked on one section of a test at a time. Each section is timed, from 35 to 80 minutes long. We used a timer simulate the real testing environment. I remember my dawdler was surprised that I was timing him. Our conversation went something like this:

Me: You have 35 minutes; I'm setting the timer.
Son: Why do you have to set the timer? I'll know when to stop and I don't think that timing is important anyway, and I can't possibly get it all done with the timer on, so I might as well not use a timer since I won't finish anyway, but if you really wanted me to learn then you wouldn't time it at all...
Me: You have 34 minutes and the timer is still going.

For the record, my son has grown up to be a wonderful young man, he is grateful we homeschooled, and no serious damage was done to his self-esteem even though I timed his practice sections. After completing a section, my children corrected it themselves and looked over the explanation of each wrong answer. If they still had questions, my husband went over the explanation with them.

Read real books

Other kinds of test preparation can also increase scores and yield great dividends. Some students learn better without textbooks. For the reading and writing section, you can prepare such students using a real books approach. Reading lots of quality literature is the best preparation. Public schools may over-emphasize standardized tests, but homeschoolers can easily avoid over-testing. Instead, we can emphasize literacy and understanding. Instead of drill-and-kill testing, we can focus on mastery of concepts as demonstrated by the "learning outcomes" of pleasant conversations and engaged expressions. Your student can gain confidence in their test-taking abilities as they have limited exposure to the negative ramifications of testing. You have the freedom to teach a calm and relaxed response to necessary tests to decrease anxiety.

Use the computer

If your child just isn't a book person and prefers the computer, there is an online option. Khan Academy offers free test preparation for the SAT at KhanAcademy.org/SAT.

As you work through test preparation, motivate your child to learn the same way you motivate them to learn English, math, or science, with clearly conveyed expectations, a calm demeanor, consistent practice, and a matter-of-fact attitude. Test preparation is like any other high school subject - it needs to be done.

5. You can incorporate test prep into classes instead of working into the evening

Instead of a full day of school followed by added hours of test prep, we can incorporate test prep into our regular homeschool day. Making test preparation part of your child's high school experience will make it much easier for them to succeed. Public school students may have trouble finding time to prepare for the test, but for homeschoolers, it can be part of the total educational experience.

You can include test prep in English class, replacing some of the English curriculum with test preparation books. The most homeschool-friendly way to do this is to give one short, timed section of the test about three days a week. It can replace your language arts workbooks or writing on days you assign test prep. This can reduce the work load because you aren't adding more test prep, but are replacing some work with test prep.

You could put test prep on the transcript as a stand-alone course. When your child is working hard on studying for the SAT or ACT, you may be accumulating enough hours to make this a class. Give credit for work done and put it on the transcript as a class called "Study Skills" or "College Study Skills." If your child racks up about 75 hours, then it's a half credit. I usually put classes like this in the elective section of the transcript. It's always important to write course descriptions, and this class is no exception.

6. You can invest time in earning scholarships and make college affordable

SAT and ACT test scores are closely tied to college scholarships. Some colleges give automatic scholarships tied directly to test scores. Preparing for tests, rather than taking tests cold, can earn your child the next level of scholarships. Investing time, effort, and resources in test preparation can have a huge payoff, worth tens of thousands of dollars. Your child doesn't have to out-score everyone, they only need to achieve the best score they are capable of, and then find a college that values those scores. Test preparation planned in your regular school day is like earning money for college while homeschooling.

I suggest that parents have their children study for the SAT or ACT during junior year, early in the spring. Repeat the test again in June of junior year. That will give your child the best chance of earning college scholarships. When you're checking out colleges your child may like to attend, watch for automatic academic scholarships that will help make college more affordable!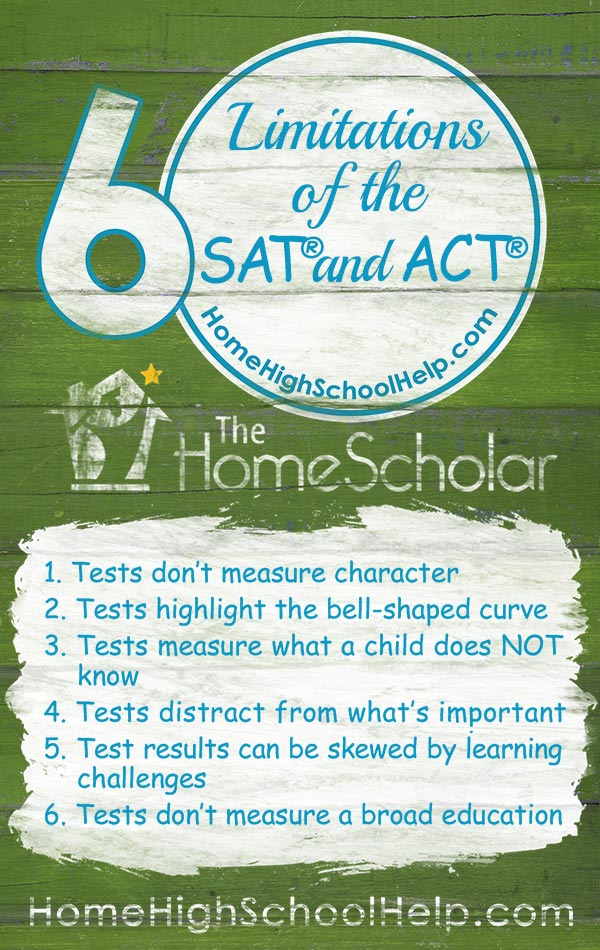 Learn to Avoid the 6 Limitations of the SAT and ACT
While I'd love to say there are only benefits and no drawbacks, you know that can't be true. Studying for the SAT or other tests can benefit your homeschool but it's possible to go overboard. Studying for hours a day for weeks on end may cause burn-out. The last thing you want is to frustrate your teenager so they hate homeschooling. You want them to learn test taking skills and reinforce basic skills but do it with a light touch. Know your student and trust your own judgment. Let me explain six limitations of standardized tests and what you can do about them.
Tests don't measure what's important, such as character. Review important character qualities with your teen. [
Click here for a free printable poster
]
Tests display the bell-shaped curve which can make you feel uncomfortable. Remember not to compare one child against another. Read more about
Homeschooling at Peace Inside the Bell-Shaped Curve.

Tests measure what a child doesn't know but are not representative of all the things your child does know. Be gentle when discussing test results.
Test preparation can distract parents from what is truly important for life-long success. Don't skimp on core academics or work ethic, because those are skills all adults need.
Children with learning challenges have trouble with fill-in-the-bubble tests, which can skew test scores for an otherwise smart teenager. Consider getting accommodation on the SAT or ACT.
Tests don't measure a broad-based education or true mastery of material and may represent your child's ability to recall on one bad day. Be sure to use a variety of methods to evaluate your child.
The bottom line is that tests are good for the bottom line, even considering these issues. Put them in the proper context and help your child do the same. All is not lost if test performance isn't stellar. Colleges understand that test scores are only one dimension of the prospective student and the one thing they don't want is a one-dimensional student. Focus on the whole student and give them skills that will serve them though their entire life. (Spoiler alert: after college there aren't many more fill-in-the-bubble tests, but there are many tests of character).
Homeschool Guide to College Entrance Tests
The SAT test is a college entrance exam with two sections that measure reading, writing, and math. Each section is graded on a 200 to 800 scale. For each section, a grade of 500 is average, 600 is good, 700 is great, and 800 is perfect. It's a long test, mostly fill-in-the-bubble, paper and pencil test. There is an optional 50-minute timed, hand-written essay. Because some colleges require the essay, and because it's unusual to know all colleges where you might apply during junior year, take the optional essay. Sample SAT

The ACT test covers reading, writing, math and science reasoning. It has an optional 40-minute essay, but treat it like it's required to avoid disappointment. The test is also like the SAT because it's a bubble test, mostly multiple choice, fill in the blank. Sample ACT

The CLT Test is completely different from the others. It's an online test with a proctor and students bring their own computer to a testing location. It does not include science or an essay. It's not aligned to Common Core and aligns more with Classical education. While it's not accepted by all colleges, the popularity of CLT is increasing, so it's worth considering.

Dual Enrollment (DE) is a non-test alternative. The college admission tests are supposed to prove a student is college ready, but not every student thrives with fill-in-the-bubble tests. Some colleges require an SAT or ACT test, but some accept community college success as a demonstration of college readiness.
Homeschool Guide to Test Preparation Books
Test prep earns bigger scholarships, but that doesn't mean you need to pay thousands for a tutor. Homeschoolers know the best curriculum is often a low-tech version, and test prep is no different. Both the SAT and ACT are currently paper and pencil tests, so paper and pencil are the best way to prepare for them. Choose appropriate test preparation materials: paperback books with real, previously used, SAT or ACT questions. These are the study guides I recommend.


SAT Preparation
The College Board Guide: Official Study Guide
The Princeton Review SAT Premium Prep 2023
ACT Preparation
The Princeton Review ACT Prep 2023
The ACT Company Book: The Official ACT Prep Guide, 2022-2023
Cut out one test from the book for each child and put their name on it so they each have their own test. Plan regular test preparation for three to four days a week. On our at-home days, we covered core subjects in the morning and test prep was first thing after lunch. During each prep session, complete one section of the test. Have your child review the answers to the questions they missed. One day a week, practice essay skills in place of a regular English assignment. Read the prompt first, then set the timer for 40 to 50 minutes.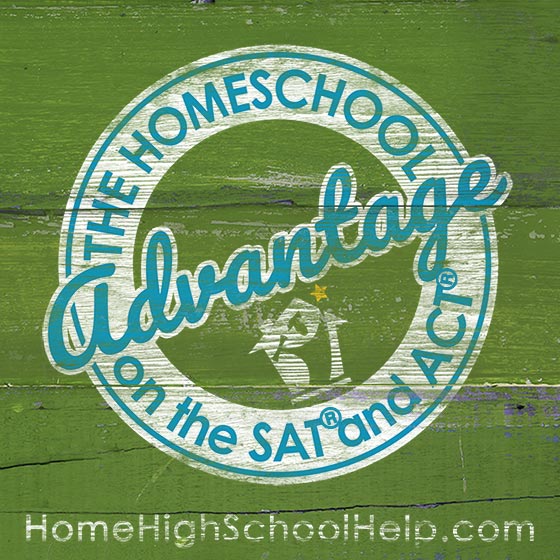 The HomeScholar's Guide to High School Testing
I suggest that parents have their children study for the SAT or ACT during junior year, early in the spring. Repeat the test again in June of junior year. That will give your child the best chance of earning college scholarships. When you're checking out colleges your child may like to attend, watch for automatic academic scholarships that will help make college more affordable!

My book, High School Testing: Knowledge That Saves Money (The HomeScholar's Coffee Break Book series 18) will help you understand the common high school tests, such as the SAT, ACT, AP®, and CLEP. This understanding can lead to huge college savings, because colleges reward high test scores with great scholarships. That's why it's important to learn all you can now to help your child do their best on any tests they take.

"High School Testing," compares all the major high school tests available to homeschoolers, and outlines the strategies & study tips your child can use to excel at college admission and scholarships. Whether or not you're a fan of standardized testing, you'll learn their value and which ones are worth the time and effort.