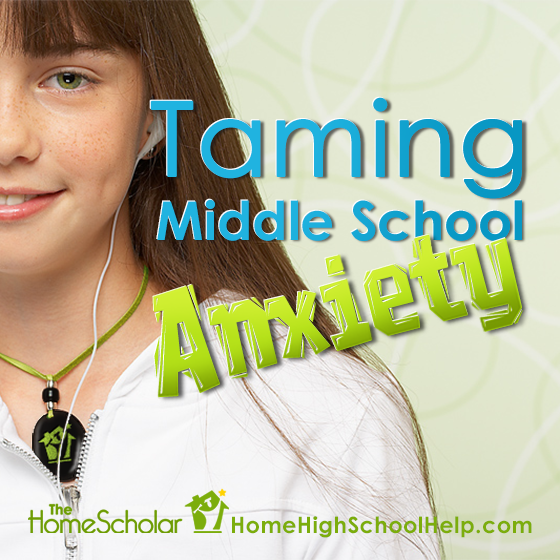 July 2018
By Lee Binz
The HomeScholar
Awkward Age
Middle school can be the sweetest, most rewarding time to homeschool! Parents can gently guide their preteen through the physical, intellectual, and social changes that come with this age. If you have been homeschooling successfully, nothing dramatic will happen when your child changes grade levels and enters middle school. They will still have the same learning style. The strategies that worked for you before will still work. You can reconnect with your child and prepare them for high school and beyond. Middle school doesn't have to be the train wreck you remember or have seen depicted on TV! You can ensure your child learns appropriate behavior in the safety of your own home.
Many homeschool parents still feel anxious about middle school. Parents can find themselves suddenly staring across the breakfast table at strangers. Delightfully compliant children can suddenly act out like surly teens with attitude. Thankfully, as homeschoolers, we can shape and mold our children through this process, even during bursts of hormonally-charged awkwardness. 
Homeschooling middle school and high school can seem like a daunting challenge to even the most seasoned homeschool parent. Wouldn't it be wonderful to have a proven road-map showing you how to get the most out of your experience while sidestepping all the traps? You can! The HomeScholar High School Solution can help you at your point of greatest need. Providing a wide array of reading will help each child find enjoyment in reading. Download a Free Printable Reading List. .
Read more to gain a healthy perspective about middle school education and prepare your child for their high school years.
The Goal of Middle School
The goal of middle school is to prepare your children for high school. Middle school is called Junior High School in some areas. It usually includes grades 7 and 8, although it sometimes includes grade 6 or grade 9 as well.. It's intended to provide a gradual and age-and-ability appropriate transition between the elementary school and high school.
Whether your child is ahead of the curve, or struggling in one or more areas, you simply can't be "behind" in middle school. Educate your child to meet their current needs, whether they are remedial, on track, or advanced. In fact, the best thing that you can do in middle school is to instill of love of learning, so they look forward to high school. With hands-on learning fun sprinkled in, they'll hopefully be eager for the in-depth learning in years to come.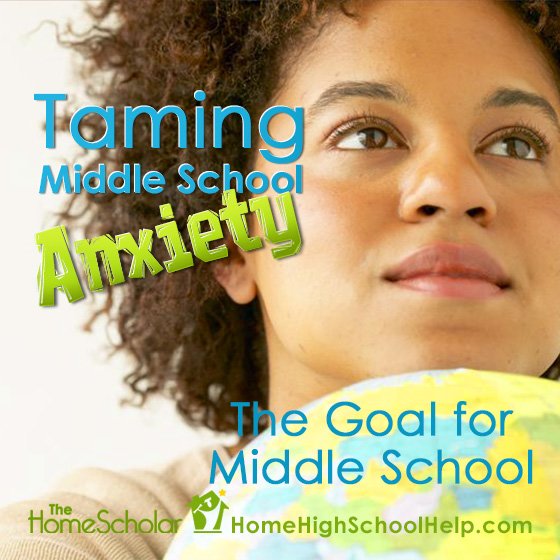 Middle School's Purpose for Parents
First, your purpose is to understand middle school. It is normal during this awkward age for children flit back and forth between childishness and maturity. Understand that there is a wide variety of abilities between different middle schoolers. Some are super-star academics with excellent work ethic. Some are gifted or academically capable. Others are challenged in one way or another. This wide range of normal was why middle school was created, so college-bound students could do college-prep work not available in elementary school, and remedial students could boost up their skills in preparation for high school level work.
Second, your purpose is to learn about high school. Nationally, most parents stop homeschooling during or after middle school, and in my experience it's overwhelmingly because of fear. You can remove the fear of homeschooling high school during 7th and 8th grade. Read your state homeschool law. Learn about high school record keeping, and class selection. Get a general understanding of tests. Once the fear of high school is removed, parents are more able to make informed decisions that are best for their children. Again, the High School Solution will give you a deep understanding and confidence about homeschooling high school
Middle School's Purpose for Students
Middle school is a pause between elementary school and high school. The pause was developed because children learn at different rates – not only homeschoolers, but all kids! So, the pause is used to give slow or reluctant learners a time to catch up before high school. At the same time, it gives quick and academically capable children a chance to continue learning at their level.
The first purpose of junior high is to give struggling students some remedial help. Students below grade level in math can spend the time focusing on math. They can use the time to get up to grade level again. These children aren't behind. They are using the time given to them for this purpose.
The second purpose of middle school is to allow students ahead of grade level to move straight into high school level work. Children doing high school level work competently, using high school level material with understanding, can include high school credits on their transcript. Algebra 1, biology, and perhaps a foreign language, are common high school level classes that may be taught in junior high.
7 Big Benefits of Homeschooling Middle School 
Below are the seven greatest advantages you will see if you decide to homeschool middle school. These are real benefits for you, your child, and your family.
Social benefits: parents have time to shape and mold behavior and ensuring a wholesome environment in curriculum choices and extracurricular activities.
Physical benefits: physical maturation rates vary dramatically. So whether students are adult-looking or not, parents can provide appropriate content for their child.
Character benefits: parents have the time and ability to instill the values, work ethic, and morals of the family.
Family benefits: with additional time with parents and family members, homeschoolers are creating memories and bonds that last a lifetime.
Problem solving: rather than facing challenges alone, as students interact with others they have their parents close by and can discuss tough situations that arise.
Academic benefits: each student can proceed at their pace in each subject all the time, with their unique learning style in mind, to maximize the love of learning regardless of ability level.
Curriculum benefits: parents can choose curriculum appropriate the maturity level, academic need, and learning ability, keeping children challenged, but not overwhelmed.
In elementary school, parents learn that children read on their own unique time-table. This is true in middle school as well. Parents can't force a child into puberty early, neither can they force algebra or logical understanding before they are ready either. Take it one step at a time. 
Remedial, Ready, or Right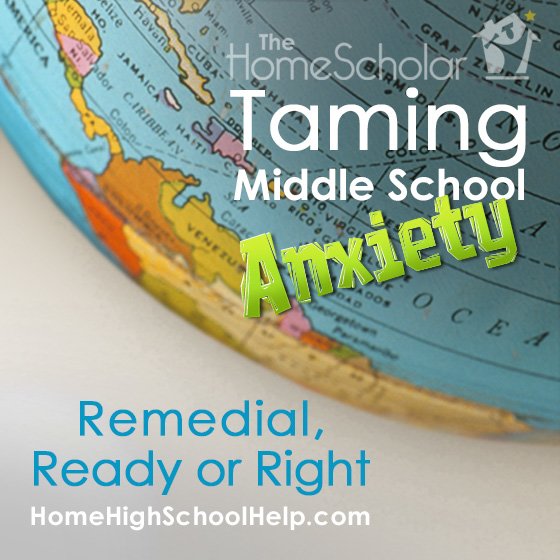 Whether your child is remedial or advanced, you can keep their subjects challenging, but not overwhelming. Middle school is the time to advance in subjects when the student is ready, but it's also the time to review subjects that still need more time. Some children are right at grade level. Not all children are at a remedial level or ready for advanced classes. They don't all have to be doing remedial work or high school work; you can do remedial work in certain areas and move ahead into high school work in other areas. This is a far superior situation for your child than the typical "assembly line" public school.
Many students are right in the middle! Your job is to teach your children at their level in each subject, all the time. Your child might be on grade level for everything but math, or excel in foreign language but suffer in writing, with other subjects right on target. The joy of homeschooling is being able to provide for your child's academic needs in every subject. They aren't grouped into broad age-based classrooms, but are being taught precisely at their level.
The good news about junior high is that it's absolutely impossible for you to be behind. If your child is below grade level and they're in 7th or 8th grade, then work on getting them up to grade level again.
Test Preparation
The best test preparation is a well-educated student, not a well-prepped student. Cover English skills like vocabulary, spelling, simple grammar, reading, and writing. Include math, history, and science each year, and you will do more to increase test scores in high school.
Do not give the SAT or ACT test that is beyond their ability. When exposed to tests they simply can't succeed in, students can develop test anxiety, and feel less confident about tests in general. Instead, use a grade-level test that's age-appropriate (like the ITBS for 7th grade or CAT-8) so you get a truer measure of ability. One grade-level standardized test each year will give you the information that you need about academic achievement. It will also give the student one experience per year taking a standardized test with a group of friends. They don't need to prepare for that test, they are simply taking it for practice and you can use the results to guide your curriculum choices next year, while students comfortable with filling in bubble tests in a group, while being timed.
Early High School Credits in Middle School
If your child is doing high school level work in an academic subject area like math, science, or foreign language, put that on your transcript. Students who pass these courses and the final exam will automatically be granted high school credit. These grades will be reflected on the student's high school transcript and included in cumulative GPA calculations.
These early high school courses must have the same expectations, curriculum and final exams as the equivalent courses taught in high school. In public schools, they often allow early credits only in math (algebra 1 or higher), science (high school biology or higher) and foreign language (using a high school curriculum.) In other subjects, I don't recommend using early high school credits, but of course the parent always knows best.
Middle school is the perfect time to build a love for reading. Here are some great books to use. Click to download: The HomeScholar Middle School Reading List
7 Big DON'Ts of Middle School
Create sensible academic strategies and remain balanced. Avoiding these seven common blunders of middle school parents will help you avoid burnout and move forward with confidence.
Don't expect instant maturity
Don't expect consistent behavior
Don't expect learning styles to change
Don't expect complete independence
Don't compare – someone will get hurt
Don't overwork and burn out your student
Don't include test prep for the SAT or ACT
7 Simple Steps to Middle School Success
If you tend to get stressed by too much information, read no further! But if you are a parent who likes to plan ahead, I have some additional suggestions.
1. Make a Plan
You will find it helpful to plan your middle school and high school courses. A rough draft with a five-or-six year plan can eliminate some of the "Oh, no! High school!" panic I sometimes see in parents. Develop a plan that will include English, math, science, and social studies each year. Consider introducing a foreign language in middle school, so you can ease into it, allowing for plenty of time to get the two to three years of foreign language many colleges require.
2. Cover the Basics
Your child will need to know how to read fluently and write understandably. They will need to understand key math concepts, so they can build on those skills in high school. Encourage the love of learning with delight directed activities when possible. Reading, writing, math, and attitude are the four cornerstones of study skills.
3. Develop Study Skills
Teach your child to complete assignments when directed and to take a test calmly, without anxiety, for optimal performance. Provide assignments so your student can complete work on their own while learning time management one day at a time at first. Later, give assignments one whole week at a time. Much later in high school, your child will be ready for long term assignments, perhaps one month at a time.
4. Encourage Organization
Provide an organized study space, with necessary tools at hand. Have a place to keep papers – perhaps a notebook for each subject. Encourage your child to work with a schedule or assignment list and to use a calendar for assignments. When they have a regular time, place, and procedure for studying, your child is more likely to take those habits with them after high school. Explain how to manage their assignments. It often works to do the "worst first" - the most difficult or least enjoyable subjects first. It also helps to break big projects into smaller steps. Estimate time for each step.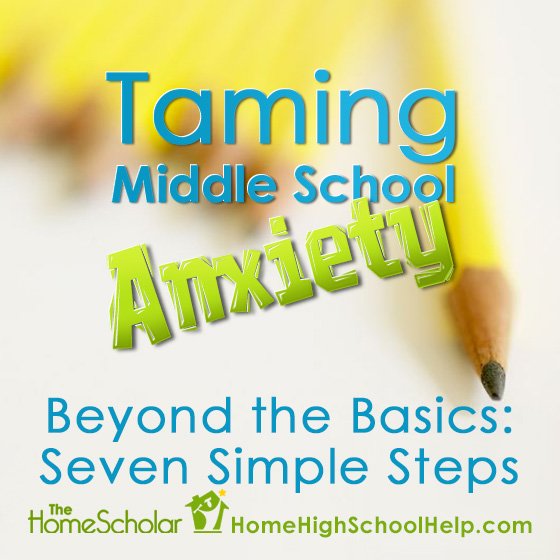 5. Practice Time Management
Help your child to understand time commitments to make sure expectations are reasonable while they balance school and friends. Encourage your child to take regular breaks. I suggest about 30 to 50 minutes of study, with at least 10-minute breaks. This is even more important for active learners, young men, and athletes. Regular exercise breaks, especially strenuous activities, can help teenagers manage hormones. Remind your child that daily study is most effective. Avoid letting them cram for tests or writing papers, as can sometimes happen in co-op and classroom settings.
6. Research College Financing
College financing can be confusing, so spend time investigating options well in advance. Although earlier is easier, it's not too late to begin saving for college. Research the College 529 Plan. Learn about the different investment plans available, and try to start setting money aside now. Estimate the financial aid you might receive from colleges. To do so, use the FAFSA forecaster at www.fafsa4caster.ed.gov. There's a good article by FinAid on the basics of saving for college. FinAid: Saving for College.
7. Do Not Panic
Focus on learning and you can't go wrong. When you genuinely care about your child's education, you are taking the necessary steps for high school. A variety of different homeschool methods can be successful. You don't have to change your method of homeschooling when you are thinking about high school or college. Instead, focus on learning on purpose each day. When your child is in middle school, you can't be behind. Do your best to educate your child and you won't go wrong!
Relax and enjoy homeschooling while you successfully navigate 6th through 8th grades. You can maintain the love of learning, and homeschool middle school with powerful purpose, but it never has to be overwhelming. Would you like to read more easy to implement ideas to homeschool with peace and calm? Learn to make reading fun with these easy-to-implement ideas. Read 7 Ways to Encourage Reading in Middle School, and get a free printable middle school reading list. Encouraging reading can be a fun way to help children love learning. When reading is enjoyable, children see homeschooling as a fun educational option, not a chore forced on them by a taskmaster. 
Would your middle schooler rather do chores than read? You need better books! Click to download my list of the best out there: The HomeScholar Middle School Reading List
Relax and Enjoy This Season
Take a deep breath. Be calm. Relax and enjoy homeschooling while you successfully navigate 6th through 8th grades. You can maintain the love of learning, and homeschool middle school with powerful purpose, but it never has to be overwhelming. Would you like more easy-to-implement ideas to homeschool with peace and calm? Learn to make reading fun with these easy-to-implement ideas. Read 7 Ways to Encourage Reading in Middle School, and get a free printable middle school reading list. Encouraging reading can be a fun way to help children love learning. When reading is enjoyable, children see homeschooling as a fun educational option, not a chore forced on them by a taskmaster.
Taming Middle School Anxiety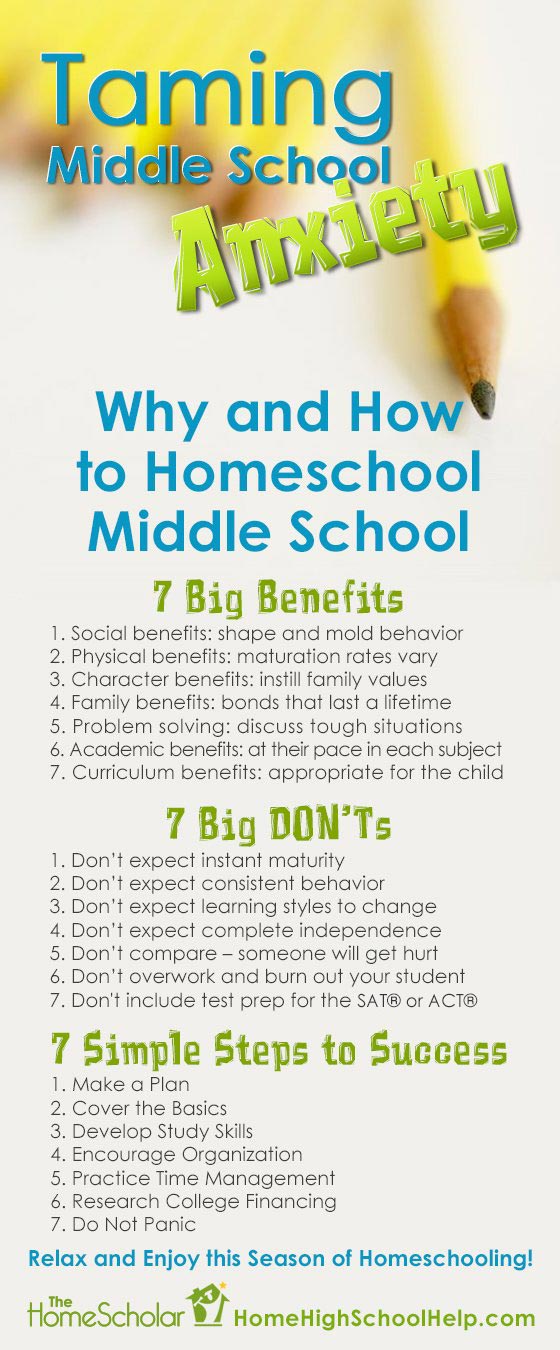 To share this infographic, grab the embed code below!
"How to Avoid the 5 Biggest Mistakes Parents Make Homeschooling High School" - Free Workshop
Avoid Stumbling Blocks and Pitfalls on Your Way to Homeschool Graduation!

Learn how to identify and avoid the big blunders repeated by countless homeschool parents:

• The First Mistake may cripple your plans if your child ever changes their mind (and what teenager doesn't)!
• The Second Mistake may leave your child unprepared for college!
• The Third Mistake may result in the loss of thousands of dollars in financial aid!
• The Fourth Mistake may cause your child to be lost in the crowd during college admission!
• The Fifth Mistake may render your kid unable to gain admission to the college of their dreams!

---

Homeschooling Middle School with Powerful Purpose: How to Successfully Navigate 6th through 8th Grade
(Coffee Break Book) [Kindle Edition]

Learn why "old-fashioned" homeschooling is still your best bet for growing passionate learners! Homeschool independently and take your life back! Instead of a "one-size-fits-all" assembly-line education, choose the freedom to teach your children at their pace and consistent with your values. Pursue happiness while homeschooling, instead of pursuing the busyness so common in our society.

Learn to identify and eliminate sources of educational dependence, regain your peace of mind, and rekindle your children's love of learning. Be a fearless leader! Declare your independence from the public system and rigid classroom structure. Create a perfect fit education for your child.

---

The HomeScholar High School Solution
Guidance for Every Age and Stage

If you are a beginner to homeschooling high school, consider the High School Solution, which provides detailed training on homeschooling all the age groups, from middle school through senior year. The resources included give specific help for all stages, from getting started, planning high school courses and understanding high school testing, to college admission and scholarships.

Get complete instruction for choosing curriculum, encouraging delight directed learning, and teaching advanced subjects through training classes for parents, all with handouts or workbooks plus articles and templates.
Copyright © 2018 The HomeScholar LLC, www.HomeHighSchoolHelp.com. Text may be reprinted without permission if used in full, except for use in a book or other publication for rent or for sale. Reprint must include this copyright, bio (below), and the original URL link (http://www.homehighschoolhelp.com/taming-middle-school).

Lee Binz, The HomeScholar, specializes in helping parents homeschool high school. Get Lee's FREE resource guide, "The 5 Biggest Mistakes Parents Make Homeschooling High School" and more freebies at www.HomeHighSchoolHelp.com.