Learn to Create


Scholarship Winning Homeschool Records
SAT and ACT Tests
The most common outside documentation provided by public, private, and homeschool students are SAT® or ACT®. The SAT is accepted at almost all universities and is often used to determine college admission and scholarships. The test covers reading and writing and math. The ACT is also accepted at almost all universities, and can also be used to determine admission and scholarships. That test covers reading, writing, math and science reasoning. To best use this form of outside documentation, give your student a sample test at home, to determine which test is a better fit for your child. Most students can improve their score with consistent, daily practice.
AP Tests
Advanced Placement® Tests can also demonstrate your child's mastery of a subject. Sometimes AP tests are required by colleges. AP tests are college level tests, allowing your child to earn college credit with good scores, depending on each college's policy. There are over 30 different subjects available to choose from. Each test includes short and long essay questions along with multiple choice questions. Homeschoolers take these tests at their local public or private high school. While AP courses are available, your child is not required to complete an AP course; they can simply take the test. Because AP classes are so rigorous and time-consuming, make sure to keep an eye on the big picture. A well-rounded, happy, educated student will look more appealing to colleges than a child who has passed a slew of AP exams with nothing else to show for it. If your child gets burned out by large numbers of difficult classes, or doesn't have time to complete core subjects like math or science, then AP courses may actually hurt them in the long run. Many colleges will provide college credit for passing AP scores, which can reduce college costs. These tests are the best choice for children applying to Ivy League or highly selective colleges. They are an excellent choice for students who test well, write well, are academically capable and hard-working.
CLEP Exams
CLEP exams (
College Level Examination Program
) are great tests for providing outside documentation at the college level. CLEP exams are designed for non-traditional learners, and are available year-round at local testing centers and community colleges. There are over 30 different subjects to choose from, with no age limits placed on the exams. They are often used by adult learners returning to college and less often by high school students, who may typically take AP exams instead. Upon completion of each exam, an official transcript is sent to your chosen colleges. CLEP exams prove to colleges that your child is capable of college level work. Some colleges will provide college credit for passing a CLEP exam, which can dramatically reduce college costs and shorten the time to earn a degree. Other colleges will use the exams to place your student in higher level classes, which will serve to keep them challenged and may also reduce overall costs. These tests are great option for students that learn naturally at a high level, read a lot, and test well on a computer. They are an excellent option for students applying to a college that will provide college credit for each passing exam.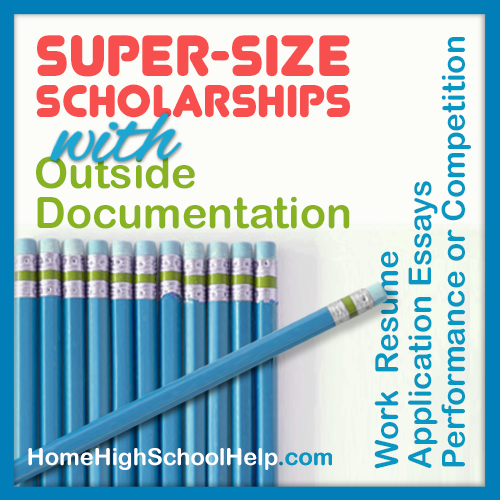 Dual Enrollment
Some high school students take classes at their community college. Students receive high school credit and college credit at the same time, which is why it is called dual enrollment. Taking courses at the community college can prove that your child is capable of college level work.
Community college can be a "Rated R" environment
, requiring maturity and confidence. If you choose this option, I suggest you use the "buddy system" and have your children take each class with other homeschoolers. Take care choosing each class professor by looking at
RateMyProfessor.com
. Look over the textbook and required reading prior to the first day of class to ensure there are no unpleasant surprises. For outside documentation, it's best to take a community college class in each different core subject area. In other words, try to get at least one class in English, Math, Science, Foreign Language, Social Science, and Fine Art. Explain to your children the importance of getting excellent grades, preferably all As, in all community college classes, so they are the most appealing to admissions officers. Community college classes can shorten the college path, and therefore save a lot of money on the cost of a college degree. If you are applying to a university, be careful not to take community college classes after high school graduation, because that can eliminate some scholarship opportunities. This is often not a good option for Christian families who would not consider a non-Christian university because of the environment. This can be a great option for mature, smart kids who may not test well but are willing to work hard academically.
Letters of Recommendation
A letter of recommendation describes the qualities, characteristics, and capabilities of the student, explaining how they will function at college and bring positive attributes to the college campus. The best letter of recommendation will be written by an adult who knows your child well and can write well. They should be eager and willing to write a glowing recommendation. Community college professors are a great source. Make sure your child gets to know their professors. Encourage them to sit in the front row, ask questions, participate, and visit their professors during office hours. A glowing recommendation is more likely from a college professor who knows the student by name, and can comment on their work ethic. If your child doesn't take community college classes, they can obtain letters of recommendation from other sources, such as apprenticeships, internships, and job experiences. The student requests a letter of recommendation from an adult they know. When the person agrees, your child can give them a copy of their transcript, activity list, or resume, so they have a fuller view of the student's abilities. A letter of recommendation is often required during the college admission process. This is an excellent option for students who develop close relationships with professors or adults in leadership positions.
Comprehensive Homeschool Records
Comprehensive homeschool records open doors. Course descriptions can include a paragraph about what you did, a list of what you used, and a description of how you came up with your grade. These records provide extra-special documentation of thorough academic preparation, and they can be a key to obtaining college admission and scholarships. Some colleges are happy to know you have this information, and when they see a large package of information will gleefully think "Woo Hoo! We have one of those awesome homeschool parents who goes over-the-top academically!" Other schools will read and savor every word you write, thankful for this additional information they may require from homeschoolers. Some colleges will deny they want these records, until they need them. Those are the schools that might question just one class, and in lieu of outside documentation through tests, might be willing to read your thorough documentation from your course description to fill that gap. This is an excellent option for parents who push their children academically or include delight-directed learning, but do not have a lot of outside classes. I recommend creating transcripts and course descriptions for every homeschool child, but they are absolutely critical for parents who don't have other outside documentation, or need scholarships in order to afford college, or are applying to elite colleges.
Work Resume
How do adults provide outside documentation? By providing a résumé! A work résumé is a short document describing education, work history, references, and a list of achievements given to an employer when applying for a job. This same style of information can be presented to colleges, to demonstrate extraordinary work experience. What are colleges looking for, anyway? They are looking for committed young people who are willing to work hard for the goals they want to achieve. What could demonstrate hard work more than a list of ways the student has worked hard? A strong résumé, along with a high school
transcript
and diploma, will be required by employers, if the child does not go to college. This is a wonderful option for students that have a lot of work experience instead of a lot of academic experience.
Performance or Competition
Instead of tests, some colleges will ask for performance from the student when they visit the campus. This may be a formal interview experience, or an informal event with a student or graduate from the college. If your child will be interviewed, make sure you prepare them for the experience. Often these interviews can determine whether the student is admitted or not, and how much scholarship money will be awarded. If you are preparing your child for a campus interview, read
How to Win a Scholarship Competition and Ace the Admission Interview
. For fine art students, their art portfolio provides outside documentation that can be as important as academics - or even more important. Music students will often be asked to audition with their instrument, even multiple times, competing against other artists for limited spots. Fine art applications are unique, so you want to carefully do your research and thoroughly research each college for their application requirements. I suggest that fine art students attend a Performing and Visual Arts College Fair. This is a great option for children with a special gift or talent, and will likely be required by fine art conservatories and fine art university programs.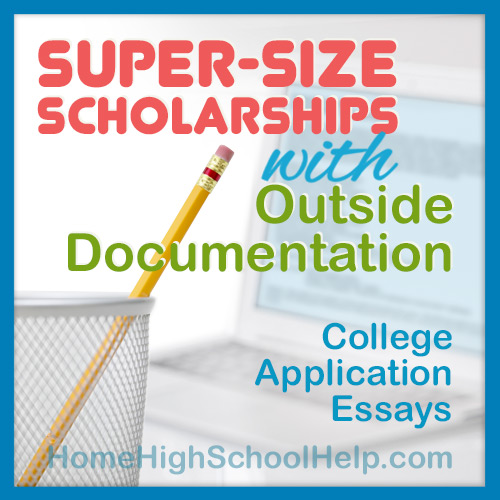 College Application Essays
College application essays
explain in writing the character qualities of the student. Each college may request the student write one to four written papers, and they may be short (250 words) or long (1,000 words). These are self-reflective personal essays that answer the question "Who are you?" These essays must be technically perfect descriptive essays that demonstrate the strength of the student's writing ability. These essays explain exactly why the student is ready for college, and why they are a good fit for each particular school. So really, a college admission essay is a "selfie" in words, carefully showing exactly who the student is, from multiple perspectives. Don't repeat anything between essays, and certainly don't repeat anything on the essay that is already on your application or transcript. This is no time to be wasting words on a list of accomplishments or classes or test scores that the college should already know from the rest of your application. A poor writer can take as much time as they need during the writing process to create a great written "selfie." This is an excellent option for all children applying to colleges, and I recommend it for everyone.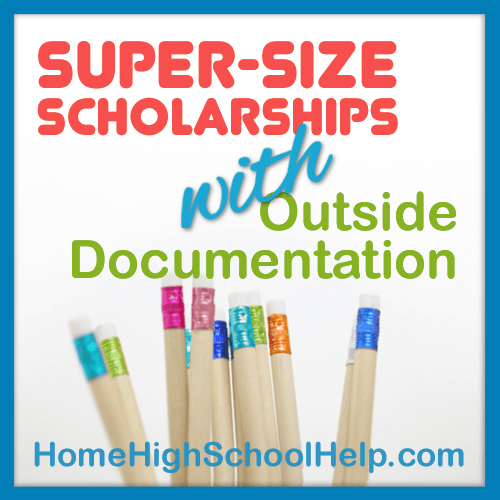 Super-Size Scholarships with Outside Documentation
Colleges value homemade homeschool records , but sometimes they want to see more. Sometimes colleges want to see outside documentation, such as standardized tests or community college classes to demonstrate a student's abilities. Usually a transcript along with college admission test scores is sufficient for college applications, but additional documentation can be helpful when searching for scholarships or gaining admission to elite universities. Outside documentation can help prove that your child has the knowledge necessary to succeed in college.
There are many ways to provide outside documentation to colleges. Consider each one carefully and choose the ones that will help your child earn
college admission and scholarships
. You know your child, so trust your judgment! Find the perfect fit for your family.