Online Resources for College Admission and Scholarships
The HomeScholar Guide to College Admission and Scholarships:
Homeschool Secrets to Getting Ready, Getting In, and Getting Paid
America's leading expert in homeschooling high school shares secrets for college preparation, gaining admission and winning big scholarships.
Receive gentle encouragement and practical help from Lee Binz, a homeschool coach and mentor who really understands. Relax and enjoy a casual conversation, sprinkled with scripture, humor and valuable tips.
Who is this book for?
Homeschool parents across the spectrum, from classical to eclectic
All parents wondering about college admission and scholarships
Diligent and dedicated parents guiding their child's college preparation
Cowering and confused parents procrastinating away their college worries
---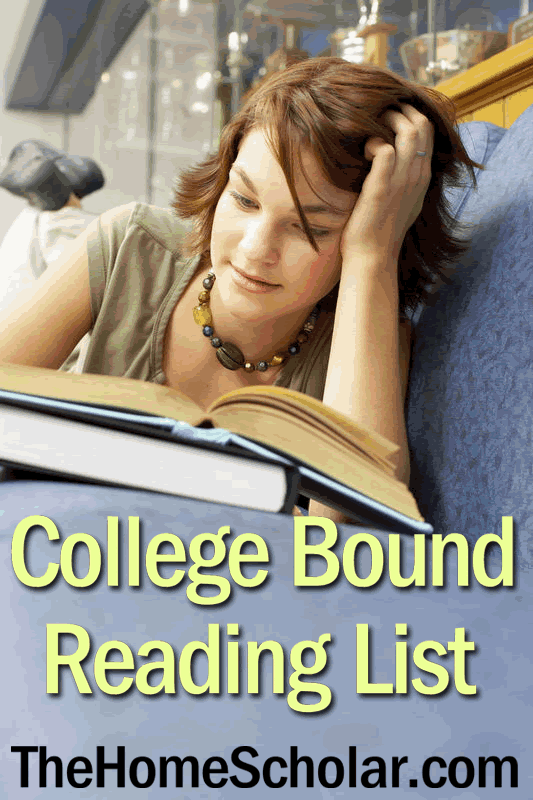 The HomeScholar's Reading List for college-bound students! A selection of books, drawn from a variety of different reading lists. They represent the books that we at The HomeScholar are both familiar with and feel comfortable recommending to college-bound students.
It's not possible (or even desirable!) for any student to read all the books on every college-bound reading list, and not every book will be appropriate for every child. However, reading from a broad cross-section of both American and World literature will help prepare your students to understand a variety of different cultures and times, and strengthen their knowledge and understanding of great literature.
---
It is an exciting day for some and sad for others: The day your graduate moves from home to college! Before they head out to that new adventure though, they need to pack! When you consider how small the typical dorm room is, this clearly becomes a challenging process. On the one hand, they need to avoid borrowing everything from their neighbors. But you also don't want to arrive with a pod full of stuff that won't fit in a tiny dorm room. Space is usually at a premium, so think efficiency as you plan.
---

Ideas for Volunteer Leadership and Community Service
My Facebook Friends helped me create this great list!
"Ideas for Volunteer Leadership and Community Service"
Go to this post and add your own ideas in the comments!
---
FREE Workshop: High School Testing - Simply Explained
Learn about the PSAT/NMSQT®, SAT and ACT®, how they've changed, when to take them, and how to determine which test will set your student apart from the crowd.
Learn the easiest and most effective test prep strategies that will raise your student's score without breaking your normal homeschool routine.
---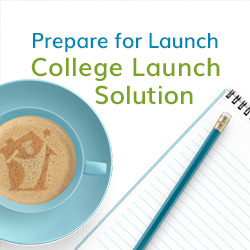 Learn Secrets to Successfully Launch Your Teen into College and Life!
In 2017, the average cost to hire a college coach was between $4000 and $6000. Most homeschoolers don't have that kind of money. But you should be able to get the kind of college admission and scholarship help you need to enable your homeschooler to achieve their dreams.
The College Launch Solution gives you all the training, support, and encouragement you need to launch your kids successfully into college and life, without paying for expensive college coaching.
---
The Amazing Transcript Secrets Known By Top College Officials That Will Unlock University Admission Decisions and Top Scholarship Awards!
This complete resource for creating your student's high school transcripts will give you the confidence and tools required to get the job done. You will save money, time and frustration by doing it yourself instead of relying on accreditation agencies and certified teachers.
---
The Comprehensive Record Solution provides what you need to create homeschool records to amaze and impress the colleges. You get training and templates and real life examples of successful high school records, including my own, which resulted in full-tuition scholarships to our first-choice university. Get the guidance and coaching you need to finish the job with confidence.
---
The HomeScholar Gold Care Club
The Gold Care Club is a complete homeschool high school online support system. It provides "How-To Training" tools and templates for parents at every stage. From beginner videos to advanced topics, you will get the information you need in the format you want. Included is weekly telephone support, and monthly members-only webinars. The Gold Care Club supports you each step of the way.
---
Praise for The HomeScholar Guide to College Admission and Scholarships
"Lee Binz knows how to navigate this often confusing or frustrating labyrinth better than anyone."
~ Andrew Pudewa, Director at Institute for Excellence in Writing
"Lee blends valuable advice with scriptural guidance that will help you and your teen navigate the high school years and ease the transition to college."
~ Gena Suarez, Publisher of The Old Schoolhouse® Magazine
"I strongly recommend this book to all homeschooling parents who think that college might be in their child's future."
~ Dr. Jay Wile, author of award-winning junior and senior high science curriculum
"This book is an essential guide for the journey to college."
~ Jeannie Fulbright, author of Apologia's Young Explorer Series
"Lee helped calm my fears, reassured my inner-dad, and walked me through the whole process. Reading this well-written book will do the same for you."
~ Todd 'The Familyman' Wilson
---
Lee Binz, The HomeScholar, specializes in helping parents homeschool high school. Get Lee's FREE Resource Guide, "The 5 Biggest Mistakes Parents Make Homeschooling High School." You can find more of her freebies here: HomeHighSchoolHelp.com/Freebies
Get more homeschool high school help on The HomeScholar Facebook Fan Page.