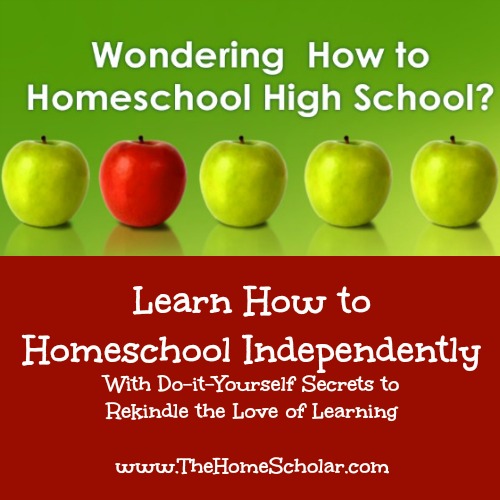 Wondering How to Homeschool High School? Homeschooling Independently is Best!
If you are eager to find out what homeschooling is all about, I encourage you to step outside the school-at-home box! Keep life, liberty, and the pursuit of happiness at the center of your homeschool!
Declare Your Homeschool Independence!
Old-fashioned homeschooling, without the public school's best-intentioned help, is still your best bet for growing passionate learners! Homeschool independently and take your life back! Instead of a "one-size-fits-all" assembly-line education, choose the freedom to teach your children at their pace and consistent with your values. Pursue happiness while homeschooling, instead of pursuing the busyness so common in our society.
When parents first start homeschooling, it can be overwhelming as you begin the research phase. Your head will spin with all the options for curriculum, co-ops, parent programs, and other "helps." I remember feeling overwhelmed and wishing someone could help. I needed someone to calmly explain what was NECESSARY, what was OPTIONAL, and what was NOT HELPFUL.
How to Homeschool Indepndently: Do-it-Yourself Secrets to Rekindle the Love of Learning
is only $3, and real parents like you have given it GREAT reviews. Amaran says she WISHES she had the book when she started, and M/M Cofield says it would be a great vacation read for you, because it's so short and sweet!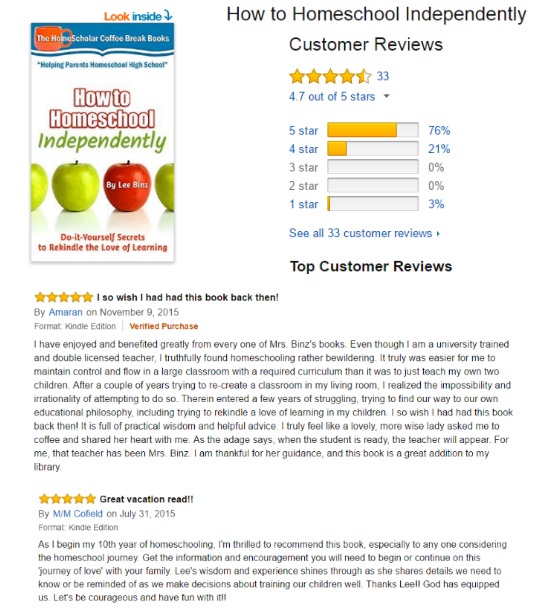 If you know someone who is thinking about homeschooling, do them a BIG favor!
FIRST - Share this book,
How to Homeschool Independently
.
You can help me be the calm voice that gently explains how to get started. This Kindle book will start them on their way to homeschooling independently with confidence! Learn why "old-fashioned" homeschooling is still best for new and beginning homeschoolers wanting life-long learners! Be a good friend and point them to this inexpensive, quick read to get them started.
SECOND - Encourage them to
read my monthly newsletter
!
Like you, they will get free support throughout the year in my monthly newsletter. It includes free online workshops for parents, calendar reminders for their job as the high school guidance counselor, and timely articles to keep on task. Plus it's a great money-saver, too, with free giveaways, and free books for Kindle or Kindle app.
Thanks for sharing this! Now is the time when parents are thinking about homeschooling for the very first time, and you can be the voice of sanity. Especially in lieu of current events, reach out to your friends, and suggest homeschooling as the perfect, and perfectly fun, alternative to public education.

Click to Join my Newsletter!