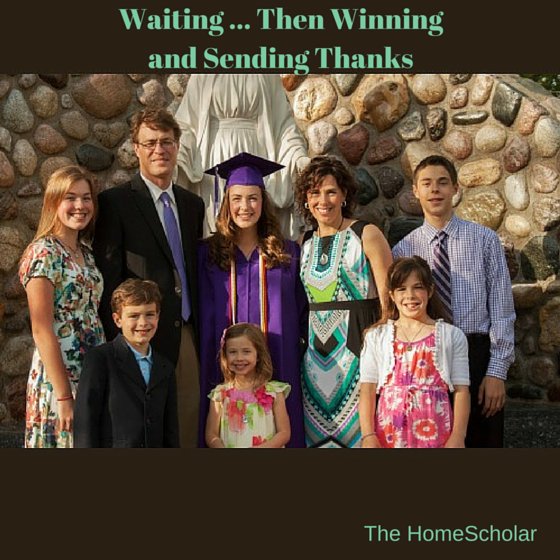 Waiting ... Then Winning and Sending Thanks
After a long, difficult day, a sweet note is just a breath of fresh air! I'm always SO thankful for parents who take a moment to send me encouraging feedback. You know, sometimes it's simply fun to share graduation photos online!
Here is what Debbie wrote after her daughter's graduation.
"I thought I would also take this chance to thank you for your assistance with my daughter's transcript and course descriptions. The information that I learned in your book, seminars, and talking with you personally gave me the confidence and knowledge to create a solid presentation of records. She received multiple scholarship offers. She turned down a full tuition scholarship at one school to accept a three quarter tuition (plus more with music) at the school she really wanted to attend. She was the only homeschooler invited to their scholarship competition weekend. She was also accepted into their honors program and is so excited to be attending in the fall. I now am ready and equipped to work on my sixteen year old's transcript next and on down the line with the next four! Thank you again for all of your help. Sincerely, Debbie"
I have to be honest, though, months prior to her thank you note, we were still talking about scholarships. Many of the schools she applied to gave her what they consider the maximum merit based scholarship almost immediately after application, because she was such a strong candidate. But Debbie was a bit surprised it wasn't more, and was worried, wondering if they had overlooked something.
But you see, scholarships come in waves. They don't all come at once, they don't all come in when your child receives college admission. Following the excitement about admission and scholarships, all of a sudden the reality of finances comes crashing down on parents. Even with a scholarship, just how can you pay for college? It's common to get admission offers first, and then wait a
long
time until
all
the scholarships come in.
Three Waves of Scholarships
The first wave is scholarship money based on application numbers - SAT or ACT scores and GPA. This is one reason I suggest providing grades on your child's transcript. You really want those GPA-based scholarships!
The second wave of scholarships is based on the FAFSA and what the government considers your financial need. Hilarious, I know, that the government thinks they know what you can afford!
The third wave involves the scholarships children get that are based on special merit, skill, or through a competition.
Learn what you can about the interview process in this article: 
How to Win a Scholarship Competition
And if your child tests well, learn about the National Merit Scholarship: 
National Merit Scholarship Information for Homeschoolers
Whatever you do, be prepared for scholarships by taking the steps that Debbie took. Be prepared with transcripts, course descriptions, information on college admission, and seek personal help when you need it.
Transcripts: 
The Total Transcript Solution
Transcripts plus course descriptions: 
The Comprehensive Record Solution
Book on college admission: 
College Admission and Scholarships
Workshops, tools, templates and one-on-one support: 
The Gold Care Club
Help for beginners: 
The High School Solution
Take a moment to say
thank you
to the people that encourage you to continue homeschooling. One "thank you" can make a world of difference!