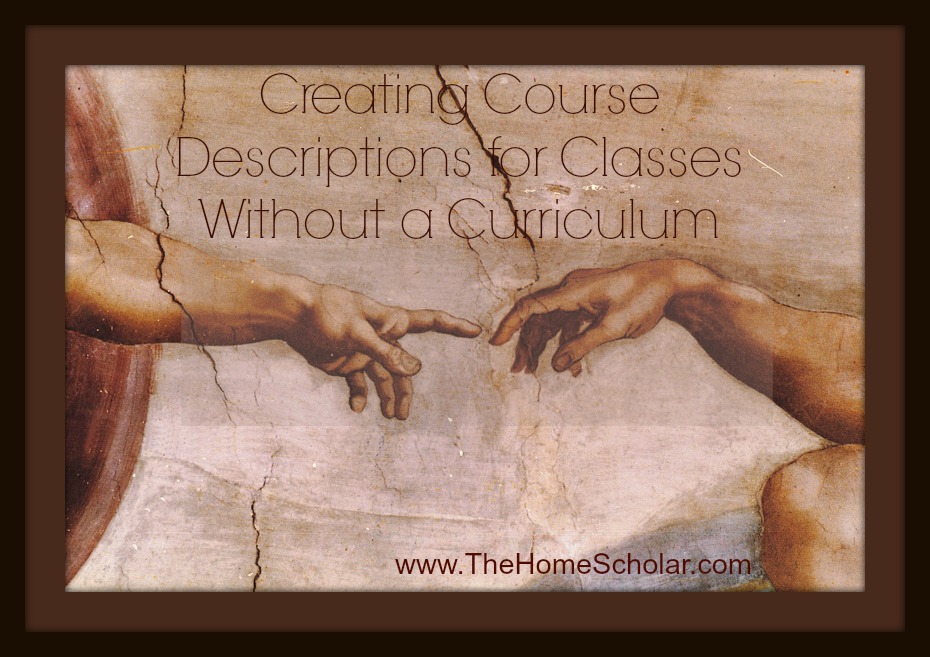 Creating Course Descriptions for Classes Without a Curriculum
Are you working on your homeschool high school course descriptions? Creating course descriptions can be fairly straight forward when you are using a standard curriculum or textbook. It's a little more challenging when you are flying free. What do you include for classes with no textbook or formal curriculum?
Realistic Expectations
Course descriptions simply communicate the content of each class. The first step is to have realistic expectations. When looking for inspiration for course descriptions, remember that there are MANY classes in public and private schools that don't have textbooks at all. Consider a public school class in auto shop, wood shop, choir, art, and PE. Even courses such as Computer Technology or Nutrition may not use a formal curriculum in ANY school.
One way to create a course description is to find a high school with a similar class. You can read and use their course descriptions as a guide.
Technology Class Course Description Examples


Look at this list of course descriptions from my Alma Mater, Bellevue High school. Starting on page 17 you can read some technology class examples, including radio and TV broadcasting and graphic art. Bellevue School District Course Catalog


This school has a list of computer technology course descriptions, including computer applications, computer programming, and computer science classes taught in high school. Long Beach School Curriculum. As you can see, these course descriptions do NOT always include a textbook; they use a tutorial for Microsoft office along with keyboarding software. You can also check out their grading criteria, which are never based solely on a test.


Nutrition and Wellness Course Description Examples


This is the description of a high school class on nutrition. It explains that "Students will be assessed in a number of ways, including checklists, essays, journal reflections, quizzes, tests, demonstrations, discussions, presentations/speeches, multimedia presentations, observation, group projects, and rating scales. Points will be awarded for each activity completed. Participation points will also periodically be rewarded for participation in class discussion and activities." You can use their ideas for evaluation as your own. Your child can demonstrate or work through a recipe as a check list. That's enough to determine a grade. Read this High school Nutrition and Wellness class.


This class, called "Food and Nutrition," has a lovely example for evaluating a cooking class. One evaluation is "Apple Yogurt Muffins" - yummy! The description for this public school class says, "This one semester course is an introduction to food and nutrition, fitness, safety and sanitation, consumer buying skills, food storage, and food preparation skills. Lab experiences include a variety of techniques in preparing grains, fruits, vegetables, dairy products and meats. This course will enable students to realize benefits of sound nutrition and apply these principles to their daily lives." Read over this Foods and Nutrition Class. Consider writing a formal-looking, but very delicious course description that includes the words "Unit 4 Pizza Lab Evaluation."


Naming the Curriculum
You don't need to name the curriculum in each course description. Simply write "Resources Used" and describe them: Microsoft Tutorials, Khan Academy Videos, etc. List what you DO have and don't worry if it's a formal curriculum or not.
I got stuck on a music course description when I was writing up my son's. He loves playing classical piano music, but there aren't any textbooks for piano. I ultimately chose to list all his performance-ready pieces and the repertoire books he used.
Read over the examples above, think about what you DID do and use and list it. You'll be well on your way to creating course descriptions. No curriculum necessary.
Have you started creating course descriptions yet?