When you really want a Christian University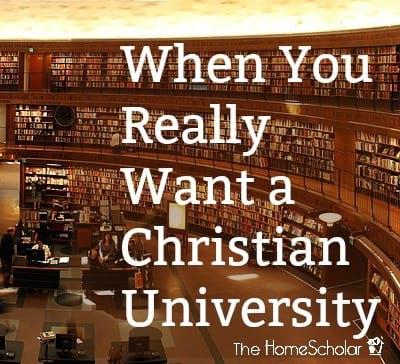 A private Christian school is a great idea, but you have to do your research. You may want to grab my free ebook, Finding a College You Love, to get additional tips.
Don't be put off by private schools

Many good Christian universities are well-funded with great scholarships. In contrast, many public universities have very little financial aid available. For that reason, often a private university and public university will be the same price for a qualified student. Don't ever hesitate to apply to private Christian schools only on the value of cost.

Don't judge a school by name

Like judging character based on looks, it's a bad idea to judge a school by its name. For example, Texas Christian University is consistently ranked #1 in the top party schools by an unfortunately popular magazine known for it's centerfolds.... so that's not a club you want to be a member of, I'm guessing!

Don't judge a schools by the past

Universities evolve over time, reflecting the current administration and student population. For that reason, a college that a friend says is a "great Christian school" might change over the years. For example, I've been shocked by some of the changes at Seattle Pacific University, where my children attended. My members have reported back that it feels like a "Christian in name only" college now - which makes me very sad!

Don't expect an exact theological match

When you attend a church, you are hoping for a close theological match with a comfortable feeling, so you fit in. The same thing is true with a Christian college. You may find one that feels like home even if their theology isn't the exact same denomination as your own. Look for a "home" not an exact duplicate of your beliefs.

Do judge a school by visiting

You have to actually interact with a school in order to know if it's a Christian school currently, and if it will meet your needs in that way - or in any way! There is literally NO way to tell if a college is a good fit unless you visit.

Do begin with a college fair

Attend every Christian college fair that you can during high school, so you get to know the good schools. Listen to what they say about scholarships, too. Locate a Christian college fair here.

I hope this gives you some ideas on what to look for when you are looking at Christian schools with your child. There is a lot to think about, but doing your research in the beginning is far better than enrolling and figuring out it wasn't a good fit.
Comments
No comments made yet. Be the first to submit a comment