What is a good score on the SAT? Everybody asks me that!


There is no formula or calculation for what makes a good score. A good SAT score is the best score that YOUR child can earn. But to guesstimate how your child is doing, I can suggest a scale based on the general population of the US. It doesn't fit every family, and it may not fit your child, but it can help you begin to think about test scores and what they might mean.
Scale for College Admission Tests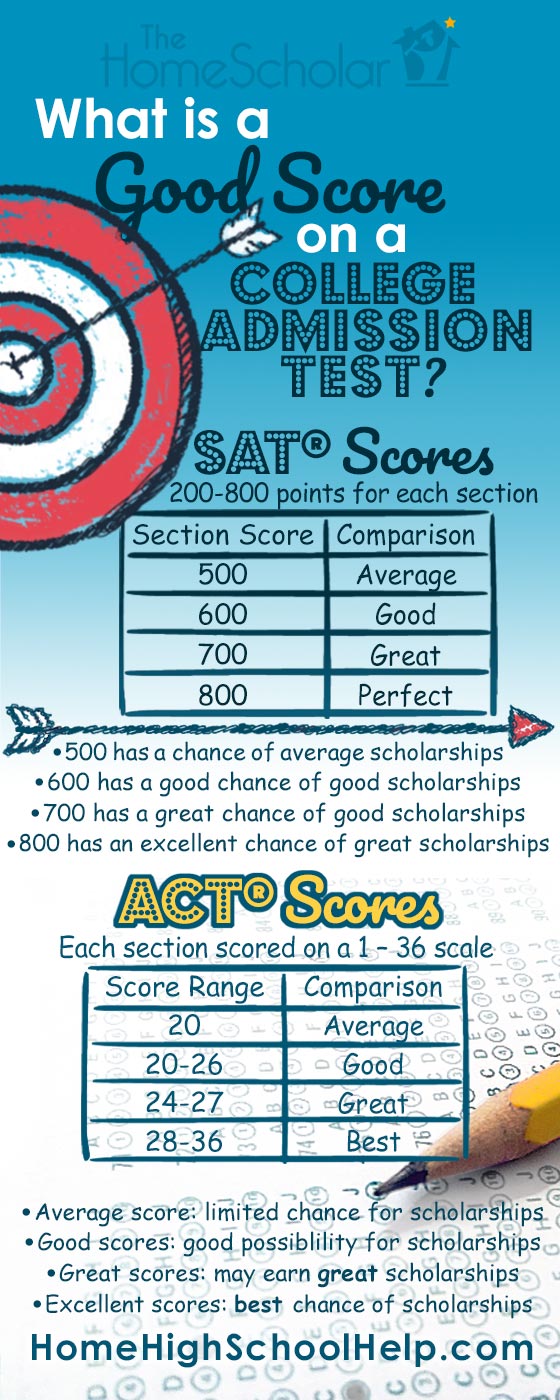 Colleges have different policies on how they award scholarships. A perfect score may earn a full ride at one college, and not earn any scholarships at another college. But in general, as test scores go up, so does your chance of a scholarship award. Think of it this way, your child's chances of earning scholarships go up as their scores go up.

Scholarship Chances for SAT Score

500 on each section has a chance of earning average scholarships
600 has a good chance of good scholarships
700 has a great chance of good scholarships
800 has an excellent chance of great scholarships

For example, in general an SAT score in the 700s (or ACT above 30), has a great chance of earning good scholarships, full tuition, or full ride scholarship opportunities. Carefully shop for colleges and watch their scholarship policies. The more you need scholarships, the more carefully you need to search.


Understanding these common tests can save you a LOT of money on college. Learn more about how to get the best possible SAT or ACT score with the least possible stress in this article: How to Ace the SAT or ACT. How to Ace the SAT or ACT. It will help you choose study materials and make a plan for success.
Learn about the other tests too, with this free instant download filled with great tips for busy homeschool parents trying to choose the right test and prepare their students for success: High School Subject Tests Simply Explained. You'll gain critical insights into AP, SAT and CLEP Subject Tests to maximize your college admission and scholarship chances.
Need more help? This free ebook can help answer your questions about high school tests.
High School Tests Simply Explained
.