Tips for the Home: Robotic Vacuum Cleaner gets an A+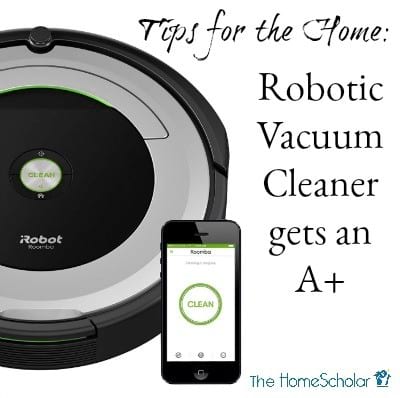 The hard part of HOMEschooling is often the HOME part. I've recently fallen in love with a new product that makes my life better - Roomba.
Please note, this post contains affiliate links. If you click and purchase, I may make a few pennies, but sadly not enough for a latte. But I'm so thrilled, I've just GOT to tell you about it, and no company has asked me to write to you about this - it's really my opinion as the keeper of my home.
My carpets have literally never been cleaner. My Robotic Vacuum Cleaner gets an A+.
I'll tell you what, we worked hard to keep my house clean. When I was homeschooling, my kids and I would share the chores, and we vacuumed every 2 or 3 days, but my floors were still crazy-dirty. With no children at home, you'd think my floors would be cleaner, but not so! Because there are fewer people to vacuum, we are doing it less often. Then Roomba came into my life.
Every morning, I turn on Roomba to vacuum one floor of my house. Every afternoon Roomba vacuums the other floor of my house. It vacuums my carpets, hardwood, and tile. I don't even think about what it has or hasn't done. If it misses a spot, I never notice because I pay not attention, and it will get any missed spots the next day when I turn it on again.
Seriously. It's a miracle! All I have to do is turn it on. When done, I empty the dirt and make sure it's securely plugged in to the charging base. It's made a huge difference in my life. My floors are vacuumed every. Single. Day. Nice, clean, freshly-vacuumed lined. It FEELS clean to my feet.
I wish I'd known about this when I was homeschooling. I could have had my kids doing DIFFERENT chores, instead of vacuuming. Chores are important for kids, after all!
I got the iRobot Roomba 671 Robot Vacuum with Wi-Fi Connectivity because it says it's good for pet hair, carpets and hard wood floors.
While I LOVE, LOVE, LOVE my Roomba and use it every single day, I think maybe I like mom's more. Hers is much, MUCH quieter, and I do find it hard to work with the background noise of the Roomba. For a homeschool mom with kids, though, I can't imagine that noise would be very noticeable at all.
Now don't judge me. I have a confession to make. Don't think less of me, but....
We are thinking about getting a second Robotic Vacuum Cleaner. Remember, this is a no judgement zone! But seriously, I love my first one so much, and I could turn them both on at the same time and it would all be vacuumed and beautiful in the time it takes me to get my morning walk! That's how much I love this crazy-wonderful cleaning machine. Our second purchase may need to wait until Christmas. Or I may give it to my husband for his birthday, because he really does love it too.
And now you know. I'm smitten with a Robot.
Now get back to homeschooling!
Comments
No comments made yet. Be the first to submit a comment