Tips for the Home: Circulon Premier Cookware gets an A+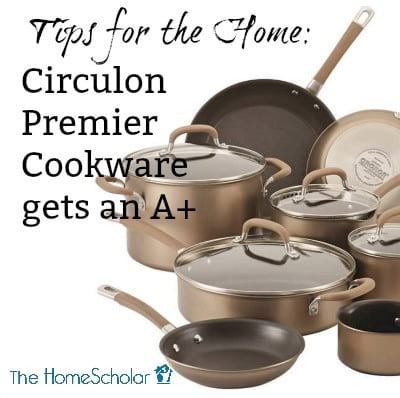 My husband unexpectedly announced, "We need new cookware" and brought home the Circulon Premier Professional 13-piece Hard-anodized Cookware Set. It's been a great investment!
Please note, this post contains affiliate links. If you click and purchase, I may make a few pennies, but sadly not enough for a latte. But I love this pans, and this is my true option, as chief cook and bottle washer, and as the keeper of my home.
I can't remember the last time I had a matching set of pans. These are beautiful, and I'm so thankful! Frankly my kids were happy too, as they got to take my old pans home with them, LOL!

I can't remember the last time a pan SAID it was nonstick and then it actually WAS nonstick. It seems impossible that these pans with the groovy surface could be nonstick, but it's true. I made gluten-free spaghetti with meat sauce and every SINGLE noodle came out of the pan. Not a drop of marinara sauce was left in the pan when I poured it. It was a pretty shocking difference from my previous pans.
I can't remember the last time a pan was truly dishwasher safe. Sure, lots of them say "Dishwasher safe" but this one actually has a picture of it in the dishwasher being washed, LOL!
Did you know that pans and lids can go in the oven? Yup! These can be baked! They are oven safe for up to 400 degrees - which will really help when I'm trying to do a bunch of things at once.
Did you know that new pans come with a spout and straining lid? Yup! You can pour out the water without using a separate strainer.
These are no-kidding professional. Very heavy. I told my mom they wouldn't be good for her to buy, because they are just too heavy. For me, though, when I DO cook, I cook a LOT, for lots of people at a time. I get lots of use out of having a 13 piece set. For me, it's perfect.
Comments
No comments made yet. Be the first to submit a comment