How to Have a Morning Meeting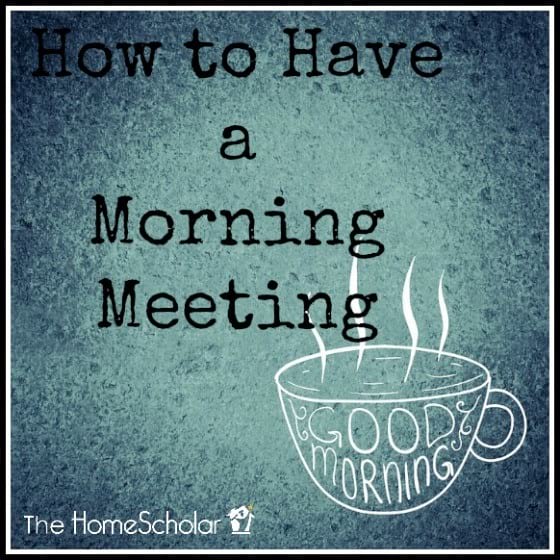 How to Have a Morning Meeting


Your role as the parent changes over time. With young children you are a primarily a caretaker. As they enter elementary school, you become the teacher. In high school, you transition to mentor. Later, when they are adults, you become, primarily, their friend.
Right now you are transitioning from the teacher stage to the mentor stage. Like a boss, you are supervising the work, not doing the work. And, like a boss, it's best if you don't leave your people unsupervised and undirected. A good boss will meet regularly with their employees, and that's the key to success as a homeschool parent as well.
Become a project manager by having a morning meeting.
Especially for unschoolers, and relaxed homeschoolers, a daily check in can make sure you learn on purpose every day, rather than settling in to a day filled with video games. The first time you make the switch from Teacher to Mentor it can feel like you are "failing" because you stop being the teacher. You don't spend an hour with each child on math, or spend an hour with each child on science. However, that feeling of failure is NOT the truth. It's actually a sign of success, as you and your children move to the next stage.
A morning meeting will facilitate learning EVERY DAY.
What is a morning meeting? It's a regular short daily meeting. at least 3 times a week, or more. During the meeting, touch based with most subjects, especially things your children aren't inherently motivated to do. That's how a morning meeting helps avoid cheating, or slacking off.
Review problem areas.

The meeting could be when you work on their challenge area. Explain assignments and review expectations for the coming day so they know exactly what they need to do. Review consequences calmly, if necessary.

Review vocabulary.
This is a key for college success in the future. When you master vocabulary you will then know about 80% of a subject. It's not as hard as it sounds. Just make a list of the words that are unfamiliar and review them each morning. By the end of the week, it's surprising how many you will know based on simple repetition alone. Being able to define "circumference" or "stamen" is the key to success when you are studying those topics.
Learning how to master the vocabulary will prepare your children to succeed in college and career. No matter where they go in the future, whether in college classes or on the job, learning the vocabulary is a key to getting ahead.
Having a morning meeting will really help!

Stay Informed
When you subscribe to the blog, we will send you an e-mail when there are new updates on the site so you wouldn't miss them.
Comments
No comments made yet. Be the first to submit a comment