Homeschooling High School with Little Ones at Home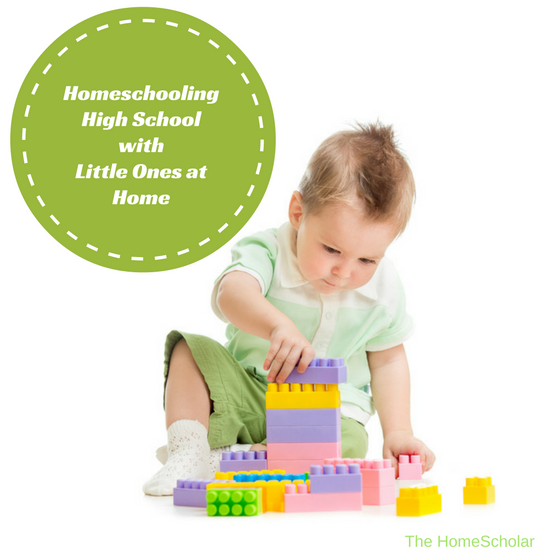 Homeschooling High School with Little Ones at Home
If you are homeschooling high school with little ones at home, save your sanity by planning ahead. Prepare for the upcoming homeschool year by spending some time putting together busy bags and boxes for your little ones! These will help keep those little hands busy while homeschooling your older ones. With any luck, you'll be able to form complete sentences and everything, when your little one is occupied with something entertaining.
Busy Bags 101
A busy bag is a bag that contains an activity your young child can use on their own with little supervision or instruction, at home, while waiting at the doctor's, or while traveling in the car.
Read these instructions for busy bags at Something 2 Offer.
Toddler Busy Bags
If you need to SEE ideas, and not read them, there are almost 40 different toddler activities in these two posts from The Rigneys:
Toddler "Busy Bag" Swap (Part One)
Toddler "Busy Bag" Swap (Part Two)
Toddler Box with Scissors
Cutting craft foam can help little ones figure out how to use scissors, and you can use the tiny pieces for art projects later on.
Read instructions at It's a Long Story.
Quiet Boxes for Littles
These are a great option for little ones who no longer nap. Creating quiet and independent activities can keep kids in their room even without napping, and is helpful for parents counting on quiet time for sanity.
Read instructions at Wildflower Ramblings.
75 Quiet Time Box Ideas for Preschoolers
A helpful list of items that would be good additions to quiet time boxes for preschoolers. You can constantly rotate them so they are always interesting to the little ones.
Get ideas at Teaching Mama.
More Ideas
Get more ideas to help you entertain little ones so you can homeschool effectively:
4 Key Ideas for Entertaining the Littles While Homeschooling the Bigs



Stay Informed
When you subscribe to the blog, we will send you an e-mail when there are new updates on the site so you wouldn't miss them.
Comments
No comments made yet. Be the first to submit a comment