Homeschool Success Through Trauma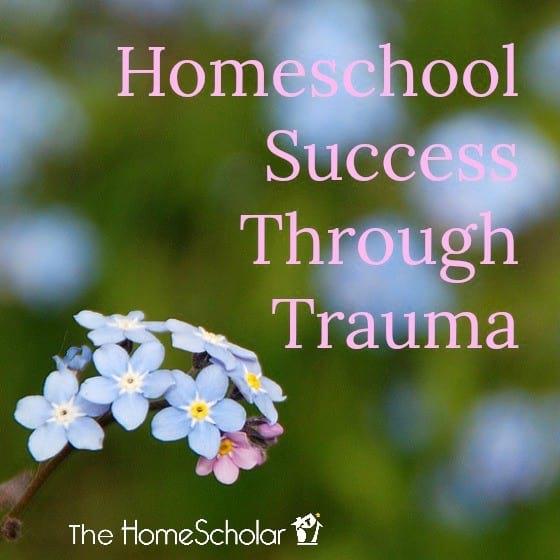 Once upon a time, a bad thing happened to a good homeschooler. Let me tell you the story of Maria and Melanoma, because she called me and begged me, "Please share my story! I'm really very thankful!"
Maria called me to share the successes of her daughter, who earned great scholarships to an awesome perfect-fit college specializing in music. But that's not what I need you to hear. I need you to listen carefully to Maria's challenging high school story.

You see, her husband developed Melanoma, the most dangerous form of skin cancer, and died while Maria was homeschooling high school. Junior year was the hardest for her, when she was caring for her ailing husband, caring for her elderly mother-in-law, and homeschooling high school with a strong-willed child at the same time. Mentally and emotionally, she knew that she just "wasn't there" during certain parts of the homeschool experience.

I totally get that.

Bad things can happen even to good homeschoolers.

And yet her daughter was given college admission and great scholarships.
How does that happen?
Maria said,"We were successful because I followed 95% of what you say to parents. It would have been overwhelming had I not been working on my records every year. I had no idea the college applications were so hard, but you made it SO MUCH easier for me, and because I'd kept records all along, that made all the difference. I was able to get scholarships and success in a challenging situation. I know that could not happen, had I not done what you suggested."
I can't remember exactly what I said to Maria, but I do know that when I talk to my Gold Care Club members I often encourage them to plan ahead because senior year is so crazy-busy.

"Homeschoolers never know what is coming in front of us" Maria told me, "I never knew, looking forward, what I would go through later in high school, but now looking back I realize how difficult it would have been to manage the application without you. With my strong-willed child we were able to channel her energy into an area where she would flourish. Your encouragement to get records done every year made all the difference. It's been a difficult and rough ride, and because you were there it was much better for me."

Maria didn't know that Melanoma would rear it's ugly head in her home. You don't know what will happen to you, either. But having gone through it, Maria had great advice. "I want all parents to be prepared all the time. We are the school. We have to provide all the documentation. This is a big thing, not a small thing. If I'd been a lax homeschool administrator, my child would have suffered. She would not have gotten the scholarships she deserved."

She said that she read every email I sent to her, and she had a suggestion for you! "Personalize what you read. I personalize everything and say to myself 'She is talking to me. Lee is talking to me!' and that makes it more meaningful. I'm very thankful for your blog, and your books."

I remember meeting Maria at a convention and talking to her (it's always fun to meet my Gold Care Club members in person!) "I met you at a conference, and I know you have a genuine heart to help moms. I want you to tell my story so parents will keep records every year."

So, take Maria's advice and stay current! You don't know what lies ahead of you.

Comments
No comments made yet. Be the first to submit a comment