Have Fun on April Fool's Day
Do you have a plan for April Fool's day?  I love harmless pranks!  Need some ideas?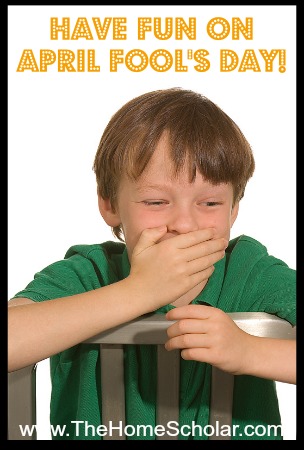 I always loved making holiday food, so obviously I start with some food suggestions!
For breakfast, you can make "Fried Eggs".  The egg is 
white yogurt or pudding with a peach half on top
. I've made this myself, and it's very cute and fun! Put one drop of food coloring in their glass, and their 
milk magically turns blue
!
For lunch, serve 
faux grilled cheese sandwiches
, made with orange frosting between pieces of sponge cake. You could serve it with with 
undrinkable juice - jello in a glass with a straw
 in it.  Yes, you probably need to include some healthy food in there too... you're on your own there!
For dinner, serve desssert first! Serve a faux dessert called 
fauxberry pie
. This pie is actually a chocolate-looking meatloaf with pink colored mashed potatoes that look strawberry flavored. Adorable!
After "eating dessert first" you can serve meatloaf and mashed potatoes again - in style! This time, 
make the meatloaf with Cocoa Krispies
.  The 
mashed potatoes are ice cream with carmel topping
.
These ideas are fun, but make sure to turn the lights down low, and eat by candle light for best results.
Parenting.com has a fun list of 
15 April Fool's Day Pranks
. From switching the kid's to a different bed at night, to filling their shoes with tissue so they don't fit, these are very cute!
Have fun! They grow up so quickly!

Stay Informed
When you subscribe to the blog, we will send you an e-mail when there are new updates on the site so you wouldn't miss them.
Comments
No comments made yet. Be the first to submit a comment