Fast and Easy History Curriculum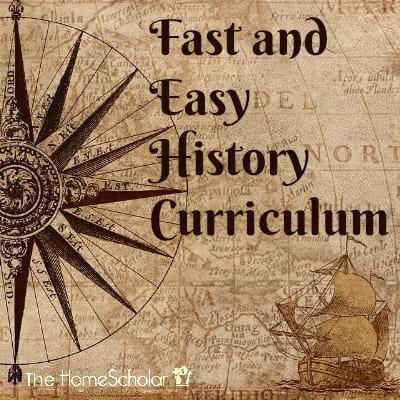 Some people love history, and others… not so much. Faced with a history-phobic kid, social studies-hating kid, you don't have to skip the subject. If you are looking a fast and easy way to get history, sometimes you just need to think outside the box, when avoiding the subject entirely is out of the question.
You can read about the high school requirements for homeschool history here: Social Sciences and High School History

While I loved Sonlight for a literature-based history program, and often suggest other literature-based curriculum options, they don't fit everyone. While I often recommend Diana Waring's in-depth curriculum, and other great science programs, not everyone can dive into a textbook, or thrives with a Christian-centered curriculum. While I love suggesting outside the box, unschooling options, I know some families simply need more structure.

Relax! Some classes will be easier than others! Like Underwater Basket Weaving, sometimes easy is OK.

So without judging you and your choices, I'm here to provide options. Note: this post contains affiliate links. If you click and buy I make a few pennies, but sadly, not enough for a latte.

The truth is, there are other options out there that could be a perfect fit for your child. There are some fast workbook and easy reader combos that are sometimes used with accredited programs. Based on the "Uncle Eric" series of books, this may not be a perfect fit for non-libertarians, but it's definitely achievable for even the most reluctant teens. The Great Courses has some high school videos that cover history. You can combine those videos into a high school class. Just keep in mind that one credit is 120-180 hours, or about 1 hour a day. And one-half credit is 60-90 hours, or about half an hour per day. The number of hours per video is clearly explained on the description of each class, so it's pretty to figure out how many videos you'll need for a credit. The Great Courses can be cost-prohibitive for many families, so remember they can often be ordered by your local library for free. Their videos are not Christian-based, so keep that in mind also.

Here are my fast and easy way to get Social Studies cranked out when you can't otherwise cope with the subject.

ECONOMICS
Book: Whatever Happened to Penny Candy? A Fast, Clear, and Fun Explanation of the Economics You Need For Success in Your Career, Business, and Investments
Workbook: A Bluestocking Guide to Economics by Jane Williams
Video Supplement: Economics, 3rd Edition by Professor Timothy Taylor by The Great Courses
Or this post has more options: Making Homeschool Economics Fast and Easy

AMERICAN GOVERNMENT
Book: Are You Liberal? Conservative or Confused?
Workbook: Bluestocking Guide: Political Philosophies
Supplement: Whatever Happened to Justice? by Richard J. Maybury

AMERICAN HISTORY
Book Set: A History of US: Eleven-Volume Paperback Set 3rd Ed by Joy Hakim
Videos from The Great Courses: High School Level-Early American History: Native Americans through the Forty-Niners & The History of the United States, 2nd Edition Audiobook

WORLD HISTORY
Research-based curriculum: Around the World in 180 Days, 2nd Edition (set) by Sherrie Payne
Videos from The Great Courses: High School Level World History: The Fertile Crescent to The American Revolution & The Great Courses: The Long 19th Century: European History from 1789 to 1917 &
Turning Points in Modern History

Please share your comments on other homeschool curriculum that's fast and easy. Remember, it doesn't have to be perfect, it just needs to be better than not doing it at all!

I'd love to hear how you get history done in your homeschool!
Stay Informed
When you subscribe to the blog, we will send you an e-mail when there are new updates on the site so you wouldn't miss them.
Comments
1
Thanks so much for The Great Courses supplement ideas!