Does Writing for Science Have a Voice?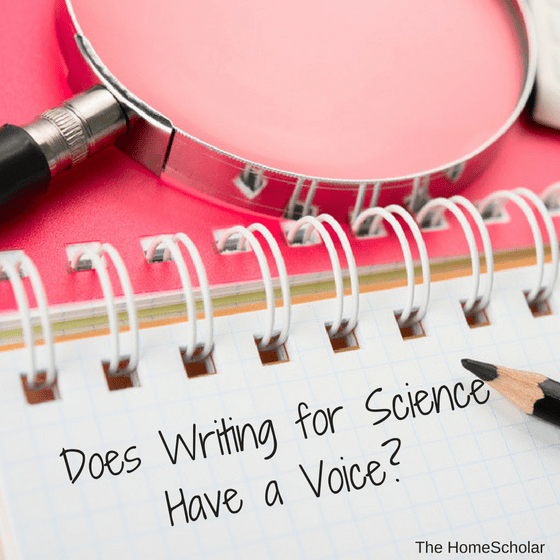 Does Writing for Science Have a Voice?

I got a question on Facebook about science writing the other day and I wanted to share it with you in case you have the same question.
Lee, I've been getting mixed answers and am hoping you can join in. Should high school science papers be written in active or passive voice? Thanks!

Here's the short answer - high school science papers aren't necessary! Having said that, "lab reports" are helpful and useful! The goal for a lab report is for your child to write one paragraph about what they did. A graph, chart, or drawing demonstrating the experiment can be included with the paragraph. Because, as you may know, if they can draw it, they can explain it! The bottom line is that voice in science writing can be either active or passive.

For our science lab notebook, we used a cheap spiral-bound notebook from back-to-school sales. You could also use printer paper or regular notebook paper, because the lab notebook doesn't have to be a notebook at all. The science lab notebook is for kids to record what they did and what they learned during the science lab.

After reading the instructions from the Apologia textbook, I had my children draw a picture or graph with a paragraph description of what they did. The picture had to be in color, and it had to be a paragraph, not a sentence. After heavy negotiations, I finally told them a paragraph meant more than three sentences. I gave them a grade for the lab report based on how pleased or annoyed I felt when I saw it! After taking biology, chemistry, and physics at home using this lab write-up philosophy, my children were well prepared for college science labs.

I hope this helps put you at ease about writing for science. There is plenty to stress out over in your homeschool, but this isn't one of those areas!
Comments
No comments made yet. Be the first to submit a comment