Choose Peace
Are you the parent scrambling frantically to finish every problem in every book before you can relax for the summer?  I encourage you to focus on "choosing peace."  Look at each thing you are trying to finish.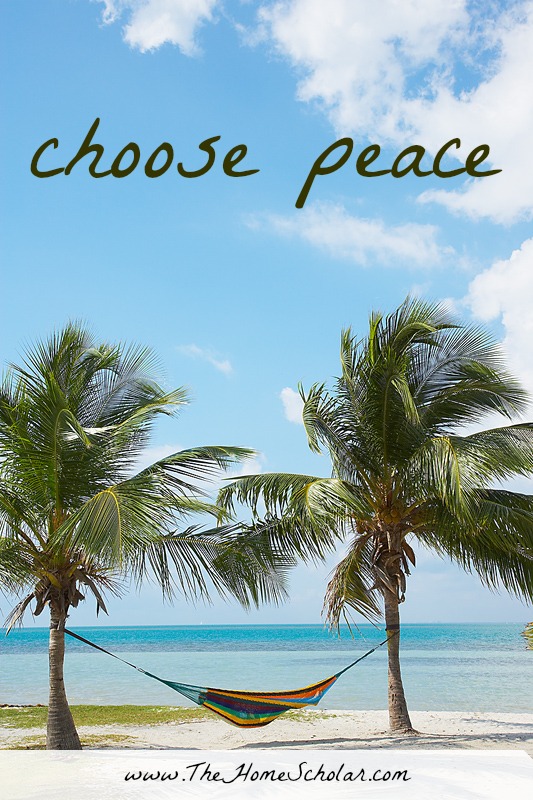 Does it need to be done?  If you are 80% done with the book, that should be enough.  Public schools finish 80% to finish the subject, and so can you.
Does it impact your mental health?  Weigh the pros and cons of finishing up.  Sometimes subjects do urgently need attention, but sometimes it's not required for your high school credit, and the cost is enormous stress.  Weigh the pros and cons!
If something does need to be done this summer, try to have your children work independently.  Independently means you don't teach them, they learn on their own.  If you need some accountability, have them show you their work from across the room, if necessary.
One mother told me her son had avoided math most of the school year and was hopelessly behind - that's a good reason to continue math during the summer.  Only do one lesson per day, not two!  Choose peace!
One mother was stressed about starting Latin during the summer.  Nope - not worth the stress!  Unless you desperately need foreign language credits, choose peace!  Skip that during the summer.
A dad asked about reading.  Summer is a great time to snuggle up with a book, but don't worry about literary analysis.  Grab books from my
College Bound Reading List. 
Save those library receipts!  That's how you'll collect all the information for the reading list for the coming year. Choose peace, and just enjoy reading this summer.
Parents often ask about SAT preparation in the summer.  I love doing a little SAT prep each day, to keep the skills fresh.  It doesn't require parental supervision - it's really like a high school level workbook!  Sure, do some SAT prep during the summer.  Keep it small, just one section per day, so kids don't rebel.  Choose peace - one section per day is only 1/2 hour, not too bad!
Summer is important.  Remember to take a break.  Think balance.  Weigh what is important.  Choose peace!

See those cute buttons at the bottom of these blog posts?  Those are there to help you share helpful posts with others who might need encouragement.  Go ahead and give it a try.  I promise that nothing will blow up!
Stay Informed
When you subscribe to the blog, we will send you an e-mail when there are new updates on the site so you wouldn't miss them.