6 Tips for Tough Course Descriptions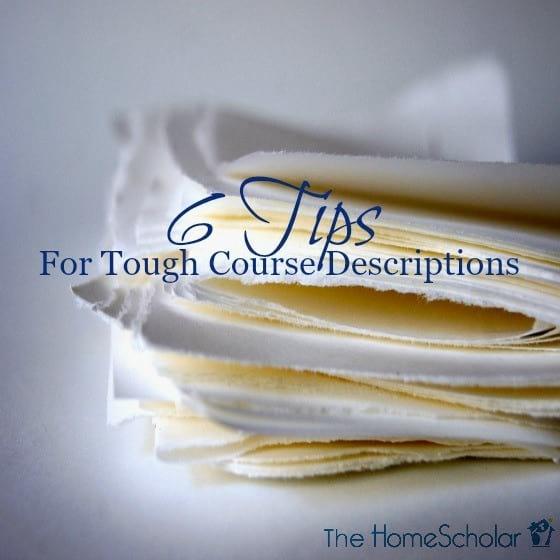 6 Tips for Tough Course Descriptions

Getting course descriptions done can seem overwhelming. But, it doesn't have to be! Follow my 6 steps listed below, and you'll be on your way to completing them in no time.
1. Cover letter can explain things
Use a cover letter to introduce or explain tough situations that you don't want to include on the transcript or in the course descriptions. My cover letter was a simple introduction. "Enclosed is the comprehensive homeschool records for my son, Kevin Binz." But a cover letter can be your best friend if you need to explain complicated situations, like taking 5 years for high school, or health troubles, or failing grades, or changes in school situations.
2. Cut and paste
"Cut and paste" is much easier than "compose and create" so use descriptions from others when you can. This is why I provide hundreds of course descriptions in my Comprehensive Record Solution. In the Course Description Collection you can Use "Control-F" to FIND the specific description you need.
3. Copy from course description books or curriculum suppliers

There are books of high school course descriptions – mine is called "Setting the Records Straight" and people who own that book have my permission to copy the course descriptions in it. They aren't "cut and paste" because they are in a book, so you have to see and imitate instead. You can also use your own curriculum suppliers as an option. Purchased curriculum often provides a course description.
4. Avoid plagiarism by using the Starbucks Method
Here is how to use course descriptions without plagiarizing- I call it "The Starbucks Methods."
In other words, first learn the course description, then imitate it in your own words. Don't worry about plagiarism if you purchase my book Setting the Records Straight, or my Comprehensive Record Solution, because you have my permission to use the course descriptions in those resources, as written. You only need to modify them for your own grades, obviously.
5. Include course descriptions for delight directed learning
Delight directed learning course descriptions are neither less important nor more important than textbook learning course descriptions. You want to describe ALL of their education. So use what I call "The Sticky Note Strategy". Make a sticky note for each of the fun things they love to do. Make a note of the year it was done and the approximate amount of time they spent doing the activity. Brainstorm some possible subject areas it might include. Then when you have a sticky note for all those things, you can group the sticky notes together into affinity groups, by putting all the things involving dance together, or all the science things together, ect.
6. Imitate a school syllabus
There is nothing new under the sun, and no matter how unusual your class may be, chances are there is SOME high school SOMEWHERE in the United States that has the same class. Fortunately, we have that special, scientific "Look Up Machine" called "Google." So when you are truly stumped, search for your key word, like "ranching" and add the words "High school course description" or "High school syllabus" to find a similar class. Then imitate their words and grading criteria.
I hope this gives you a taste of getting your course descriptions done! Course descriptions can be labor-some, but they are important! Don't wait - do them as you go and they'll be much easier. I promise.
Comments
No comments made yet. Be the first to submit a comment