You can save money on gifts for the holidays!
Several great ways to save money on gifts included: buying things that are useful AND are things you will eventually need to buy anyway.  Buying gifts that improve your chances of receiving really great scholarships saves you money in the long run, too! Here are three HUGE ideas to help you save money on gifts this holiday season.
 1. Buy Great Books 
Many homeschoolers love great books and reading! Quality literature can improve the chance of college admission and scholarships. How does that work? Simple! High quality literature can improve SAT or ACT test scores by improving reading, analysis, vocabulary, and other English skills. Even remedial learners can improve test scores by reading, as long as you choose books carefully. Check out my College Bound Reading List for great ideas for books that will perfectly fit your child.
2. Buy Necessities for College
When your children get ready to leave for college, there are things you're just going to have to buy. They will need an alarm clock that they know how to use. They'll need their own personal laptop for their school work. You can save money by giving your teenager some of these things now, for Christmas, so you have less to buy in the spring when they graduate. You can also purchase some comfort items now, like a cozy blanket that they might find familiar when they first face homesickness. Check out my College Packing List for great ideas on what you will need to be shopping for.
3. Buy Gifts That Earn Scholarships
Colleges love "passion" in applicants. We homeschoolers call that "delight-directed learning." So when you buy things that fuel their passionate pursuits, whether that is music, mushrooms, chess or chemistry, you are actually investing in "passion." That passion could be rewarded with college admission and scholarships. Yes, a computer or microscope can seem expensive now, but it could be an investment in the future. Check out my list suggestions "
Giving Gifts that Pay for College
."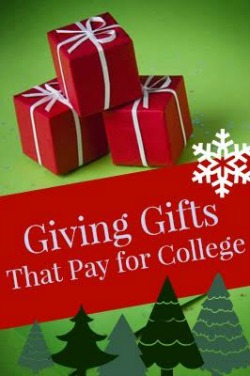 For more ideas on staying sane and saving money, you might like this short coffee break book filled with tips and suggestions!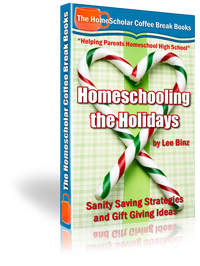 Homeschooling the Holidays: Sanity Saving Strategies and Gift Giving Ideas 
Holiday season—especially between November and January—is a busy time. Celebrations like Thanksgiving, Christmas, New Year's, Hanukkah, and more seem to tumble on top of each other, with no time in between. For many homeschoolers, it seems that any idea of homeschooling just goes out the window during these times. Is it even possible to stay sane and continue to homeschool, even a little?! Yes!