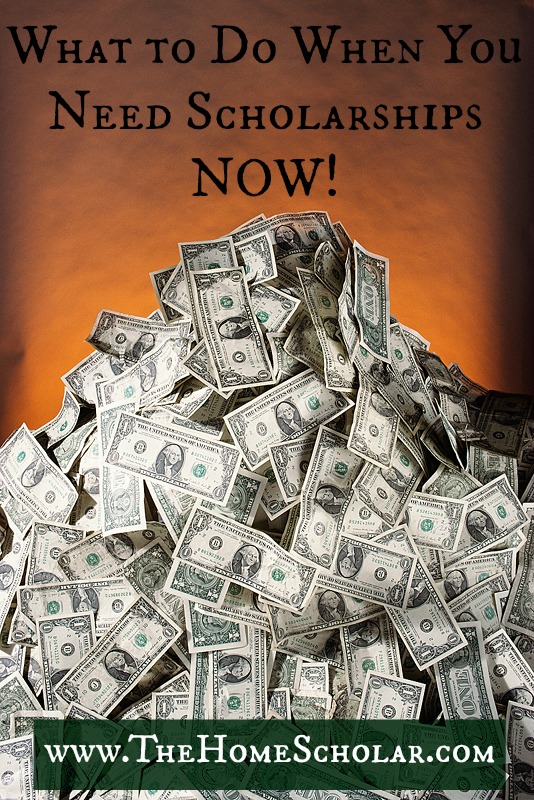 Learn about scholarships when your child starts high school. During junior year, the things you do can determine the scholarships you receive.
College choice
,
test preparation
, and
application essays
are the 3 biggest factors in receiving college scholarships.
What to Do When You Need Scholarships NOW!
It's much more difficult, and certainly more emotional, to stand in the middle of senior year, wondering where the money will come from. If that is you, I feel your pain! Spring of senior year is a difficult time. You know where your child has been accepted, and your child likely has a first choice university. And you don't have a clue how you can pay for it all.
Nancy approached me on
Facebook
and asked:
Our senior been accepted by most of the school's she applied to but her scholarship offers have not been as high as we hoped. She has applied for COUNTLESS scholarships and has not won a penny.  I am so discouraged right now. Any encouragement you can offer would be great. Also, any advice on how to negotiate for more money from colleges would be wonderful. Thank you so much! I would never have gotten this far without your products and free advice!
You CAN talk to the colleges to ask for more money. As some families decline their offers of admission, that frees up more scholarship money. For example, you can say something like, "This is our first choice college, and I would hate to disappoint my daughter, but we have 11 children to consider, not just one. We simply can't afford this college, no matter how much we love it. How can we get more scholarship money so she can attend your school?"
You can also search for other colleges that have more money to give away. If you only applied to prestigious schools, your child may look like an average applicant. If you applied to a variety of public and private schools, then your child may be the best looking candidate they see that year - and they may reward that with money. Be sure to apply for
reach, fit, and safety colleges
.
Those ideas are just off the top of my head, without knowing anything more about the situation. This article may help: 
Real Story, Real Money, Real Scholarships
, about a mom who wrote a letter like this, and it was worth $8000 to her. So yes, write to the college.
It's very difficult for me to consult via 
Facebook
, 
Twitter
, 
Pinterest
, 
GooglePlus
, 
YouTube
, or 
Blog
. As much as I would love to talk to you about these things individually, my time is so limited. As Nancy mentioned, many of my services are free. Check out all my 
Homeschool Freebies
.  But if you need some real, personal help, join the 
Gold Care Club
, so we can discuss it thoroughly, since it provides 20 minutes of consultation by phone or by email each week.
Learn more about the 
Gold Care Club
.
Learn more about
College Admission and Scholarships