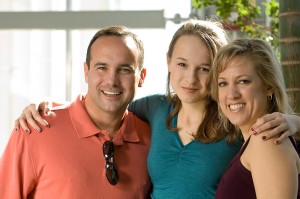 Homeschoolers often spend much of their lives talking about how their children should not be in the public schools, because as parents we're supposed to be raising, sheltering, and taking care of them. At a certain point, though, your children will become adults, and will give up their childish ways.  At that time, they may enter college, and you will have completed your responsibility to shelter them.
Although as adults you and I wouldn't put ourselves in a high risk, anti-Christian situation multiple times, we nevertheless are able to function in society. We could go to college and not fear that our faith would be destroyed. When your child is no longer a child, but has been raised to be a man or woman in Christ, then they're ready too. Even though they might not have been ready while you were homeschooling, at some point they will be ready to be an adult and go to college.
I often think about the advice that my midwife gave to me the day my eldest son was born. She handed me the baby and gave me the only advice that I needed to know, which was 'know your child and trust yourself.'  When you really know your child, you can trust your own instincts. People think that maybe there's a magic wand that they can wave and everything is going to work out. But it's really that love and knowing your child that will ultimately make the difference.
Remember: shelter then launch.  We need to take it one step at a time!

See those cute buttons at the bottom of these blog posts?  Those are there to help you share helpful posts with others who might need encouragement.  Go ahead and give it a try.  I promise that nothing will blow up!