Key Concept for Kinesthetic Kids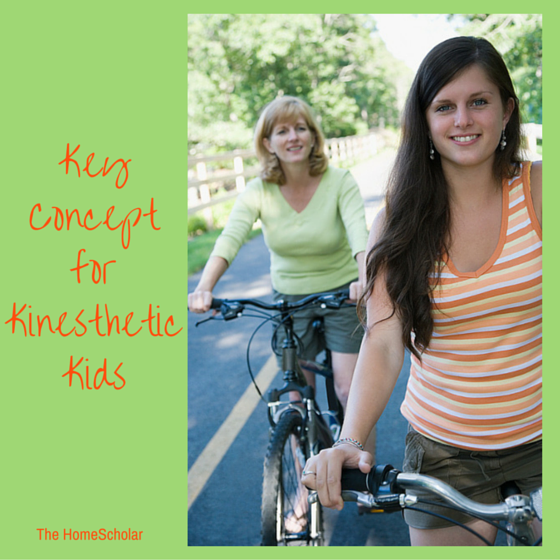 This post contains affiliate links. If you click and buy I may make a few pennies, but not enough for a latte.
Key Concept for Kinesthetic Kids
If your child is constantly moving, wiggling, handling things, your child may be a kinesthetic learner. Little kids may be wiggly, tap their feet, move their legs when they sit, and get labelled as "hyperactive".
If your teens are kinesthetic, you may notice they love to do things outside the house, work with tools, create art, or work on hands-on projects more than book learning. They love to perform as athletes, dancers, or actors.
Definition of Kinesthetic Learners
A kinesthetic-tactile learning style requires your child to manipulate or touch material to learn.
The best way to help a kinesthetic teen to learn is by embracing their learning style, rather than trying to force them to learn in an unnatural way. What does that mean?
Key Concept for Kinesthetic Learners
Kinesthetic children learn best when they are moving the large muscles of the upper arm or upper leg. If they are moving these muscles while learning, they will learn and retain more.
How can you make sure they are moving large muscles in every subject area? It can be a challenge, that's for sure! Here are some general ideas you can try.
For English,
Spelling Power
offers spelling games that are kinesthetic. When choosing books to read, focus on books that have active characters, so your child is reading about active movement. In other words, encourage reading books with kinesthetic characters, like your teen.
College Bound Reading List
Middle School Reading List
For math, look into Math-U-See. Hands-on supplements like
Family Math
and
Family Math for Middle School
have a wide variety of math games. You can do hands-on geometry lessons with
Patty Paper Geometry
Remember, it doesn't matter which math program is the highest rated program, what matters is what fits your child. Find a variety of options to consider in these resources:
High School Math without the Moaning
9 Ways to Actually Get Math Done This Year
High School Math The Easy Way
For social studies, look at Diana Waring's materials. She includes
all
learning styles in her curriculum, which makes it easy to adapt for kinesthetic learners. The problem is that she really does include
all
learning styles, which means there is way too much for one child to do. Make sure not to do it
all
, just the part of her curriculum that's a good fit. Check out her website - she has excellent videos and often talks extensively about learning styles:
www.DianaWaring.com
A kinesthetic learner is what Cathy Duffy calls a
Wiggly Willy
. If you check out her book,
102 Top Picks for Homeschool Curriculum
, you can see how each curriculum will fit with the Wiggly Willy style.
Having a kinesthetic learning style is not a weakness, it's a key to success.
Knowing your child's learning style can help them learn - it's a benefit, not a drawback. It's a clue that can help you find success. Don't let the unkindness of others force you into a curriculum mismatch. This article may help you feel more peaceful as you face others who may not understand:
Homeschooling at Peace Inside the Bell-Shaped Curve
.

Click to Join my Newsletter!
Stay Informed
When you subscribe to the blog, we will send you an e-mail when there are new updates on the site so you wouldn't miss them.
Comments
No comments made yet. Be the first to submit a comment