How to Deal with Friends Who Don't Support Homeschooling
Are you dealing with friends who don't support homeschooling? How do you deal with friends and family who just don't approve? There is the snippy way, which I don't recommend! There are other options as well!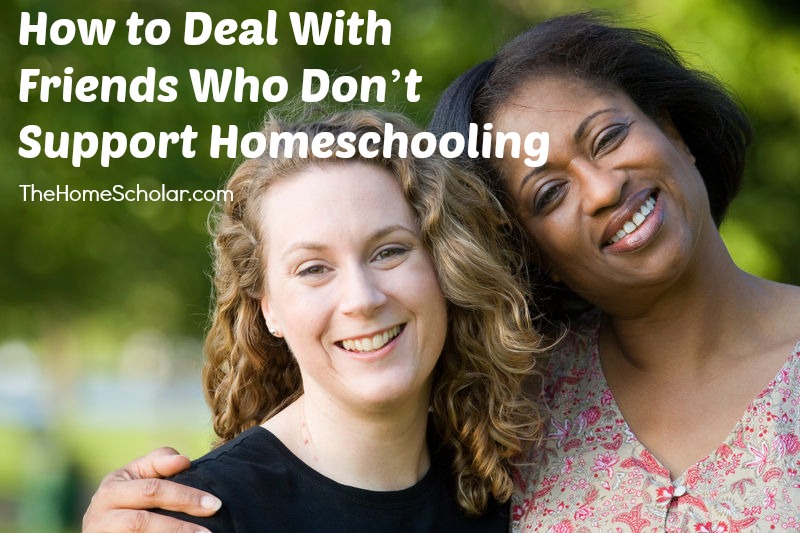 How to Deal with Friends Who Don't Support Homeschooling
Lee,  I was wondering about relatives or friends who upon learning your child was now homeschooled decided to test them on information. They did not do this to a child who is in public school. How do you respond to this type of behavior which I think is rude?
~ Karen (no state, to protect the innocent!)
My husband's family is FILLED with teachers - FILLED!  I've been grilled so many times, I can't even begin to tell you! Sometimes comments can be flat-out rude, other times it's truly just ignorance about homeschooling. I try to assume they are ignorant and look at it as an opportunity to educate them.
Here is a great video with some angry & frustrated responses. It may make you feel better:
The Fed-Up Homeschooler's Wish List
I don't recommend you start with a snippy response. Start with the assumption that they simply don't understand and once you explain it to them they will "get it." Try to answer their questions. If you don't know the answer, feel free to ask me.
It's not going to do anybody any good to even discuss it with some people. For those people I recommend two things. First, show them the statistics:



Printable homeschool information handout


Second, show them secular news sources:
Finally, there comes a point where you have to politely and sweetly state, "This our family's decision, and it does not concern you. Please do not question my children this way."
I remember having a birthday lunch, completely surrounded by certified teachers. One woman grilled me for a long time, using words I simply didn't understand. Finally I said, "I don't know what you are saying, but I know one thing, I'm trying to teach my children to love reading the same way I'm teaching them to love their Bible. I don't need to understand those words you are telling me. I just have to teach them to love reading."
Later, I heard her tell the truth to another teacher sitting next to her. "I didn't understand what I said either, it was just a question I got last week on my Master's program test and I thought I'd ask her."  Unbelievable!
Whenever you hear something negative or are dealing with friends who don't support homeschooling, just remember this: know your child and trust yourself.
Do you have a story to share about dealing with family or friends who don't support homeschooling? Let me know in the comments how you dealt with them!

Please note: This post was originally published in November 2009 and has been revamped and updated for accuracy and comprehensiveness.
If you need reassurance in the face of the naysayers or need more information about homeschooling, check out my free webinar with Dr. Jay Wile, Homeschooling: Discovering How and Why it Works!