Homeschool No-No List
I usually encourage parents to do their best, but today I'm going to pause our regularly scheduled encouragement, and tell you what NOT to do.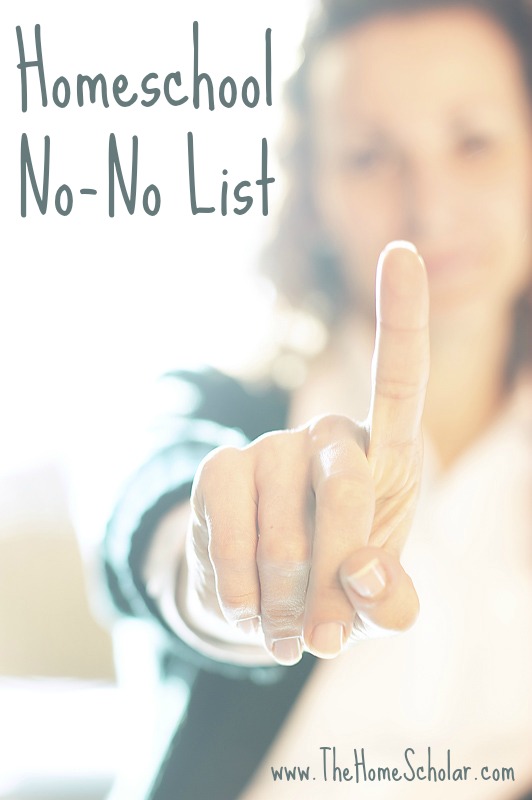 Homeschool No-No List
Homeschoolers make mistakes sometimes. We tend to worry and sometimes we go overboard! We've all been there! That's why it's great to get some tips on what not to do from homeschoolers who have been through it all before. Here are just some of mine:
What NOT to do:


Don't try to do 4 years of high school before freshman year


Don't try to write course descriptions for classes you haven't begun yet


Don't think you have to change everything to homeschool high school


Don't make your children take tests for high school when they are in junior high


Don't expect your children to demonstrate "senior" behavior the first day of freshman year


Don't expect your children to work longer hours than the working spouse in your home


Don't expect perfection, or perfect attentiveness, especially not all day long


This is a good start, but can you add to this list?  What No-No items can YOU add? Please share!

Please note: This post was originally published in November 2012 and has been revamped and updated for accuracy and comprehensiveness.
See those cute buttons at the bottom of these blog posts?  Those are to make it easy for you to share these helpful posts with your friends who might need encouragement. Go ahead and give it a try. I promise that nothing will blow up!
Stay Informed
When you subscribe to the blog, we will send you an e-mail when there are new updates on the site so you wouldn't miss them.