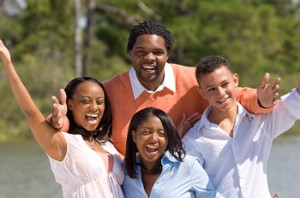 What advice would you give to a mom who is considering homeschooling?
Don't doubt it for a second -
you CAN homeschool!
You don't have to be afraid - you won't ruin your child's future or jeopardize their college chances! You can provide a superior education for your kids that will open doors for them. Your love for your child will ensure success beyond your wildest dreams!
At the same time, don't try to do it alone. Seek companionship and encouragement from others, and walk together.  I had a homeschool friend with boys slightly older than mine. We stuck together like glue, and offered each other support when it seemed like the whole universe was aligned against us.  I'm telling you,
it made all the difference in the world!
Looking back, my friend and I provided each other with
four critical ingredients for homeschool success
: a willing ear to listen, a gentle voice to correct, a wise word to encourage and a warm heart to accept.  With these critical elements in place, I believe even the most challenging homeschooling experience can succeed through high school graduation.  I've seen it - in my life and the lives of others.  Homeschooling high school is a challenging.  It is demanding and requires an extraordinary commitment from both the parents and the child to be successful.  Every parent experiences discouragement at some point.
I believe that homeschooling discouragement is primarily caused by fear...fear of the unknown, fear of failing, fear of hurting our children's future, and fear of looking foolish.  They may sneak up on you at a family event, or ambush you at a homeschool convention.  You may even be sitting at church and get that overwhelming sense of dread.  For me, the fear always seemed to come at night…in bed…staring at the ceiling….
Don't succumb to the temptation to throw in the towel, just when the rewards promise to be so great!  Homeschooling through high school is worth the effort!  It's one of the best times you'll have with your children, before they launch and start their own lives at college or beyond.   Stay the course, and finish strong.  I'm glad I did, and I believe you will be too.  Now that my sons are graduated from homeschool high school, my mission is to help encourage other homeschooling parents, and I have a lot of great resources on my website (
www.TheHomeScholar.com
).  I encourage you to visit and get any help you need!

Your best strategy for keeping all those balls in the air is preparation.  The HomeScholar Gold Care Club will give you the comprehensive help you need to homeschool high school.