Common Core and the New SAT


Everyone is comparing the SAT changes to the Common Core, and there are two good reasons for this comparison.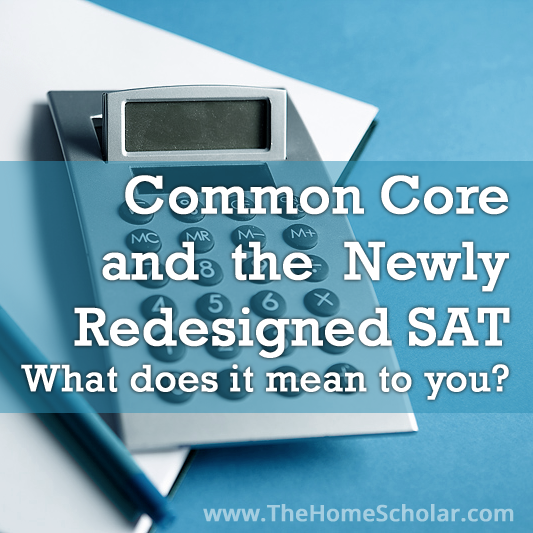 First is authorship. The author of the Common Core is also the President of the
College Board®
, creator of the SAT. Second is funding. The Bill and Melinda Gates Foundation is the primary source of private funding for the Common Core standards. That foundation also gave a million dollars to Khan Academy to align with common core standards. Khan Academy is the source of free test preparation for the new SAT.
Some parents have embraced the Common Core and others loathe it. Regardless of your opinion, educate your children in a way that fits their unique needs. Use what will work for your child, whether it is common core compliant or not. Your children will likely need a college admission test, so allow them to take the test that will make them look the very best. If you are passionately opposed to the Common Core, remember to keep your fight separate from your responsibility to educate your children. In other words, don't let your feelings about the Common Core influence you away from choosing the best educational path for your children.  It's possible to meet the needs of your child now, while working politically for a better future.
There has been some concern that the new SAT is dumbing down the education of children. The concern is that "relevant words" means easier vocabulary and that that there is less focus on advanced math. If this is true, your children will simply do that much better and receive more scholarship money. As we continue to educate our children in a way that makes sense, our children will have a strong understanding of all core subjects.
Dr. James Stobaugh writes SAT and ACT test prep materials for Christian students. He expressed a favorable view of these changes on his website 
www.ForSuchATimeAsThis.com
:
"In conclusion, these changes are not substantially different from the changes that were made in 2005. The company that sells my family milk put a new cover on its carton last January. Does that mean that the company is different? No. Does that mean that the milk is different? No. Does that mean that anything is improved? Yes somewhat. In short, and you heard it from me first, I think these changes are God inspired and by 2018 evangelical Christian, born again Christians, mostly homeschooled, will have average scores of 1525. Thanks be to God that I have lived to see these good things and in this time and in this place. I give God thanks!"
So what should you do? Educate for understanding.
The best test preparation will always be a good education.  In the elementary school years, focus on reading, writing, math, and penmanship. In the middle school years, continue to focus on the core subjects, and include keyboarding. The SAT will become computer-based so typing skills will be critical to help them be prepared.  Make sure you are teaching math with a curriculum that makes sense to your child and continue moving forward, one level each year. In high school, teach your child to write a complete essay in 50 minutes.
Choose the best college admission test for your child. Give a sample of the SAT and a sample of the ACT at home and see which test makes your child look smarter. Then have them study for that test and plan to take the optional essay if at all possible. The best test preparation uses real test questions.

Stay Informed
When you subscribe to the blog, we will send you an e-mail when there are new updates on the site so you wouldn't miss them.
Comments
2
Thank you for clarifying this, what a huge relief and encouragement.
Lee loves to give peace to stressed homeschool moms, April!

Robin
Assistant to The HomeScholar
Lee loves to give peace to stressed homeschool moms, April! Robin Assistant to The HomeScholar