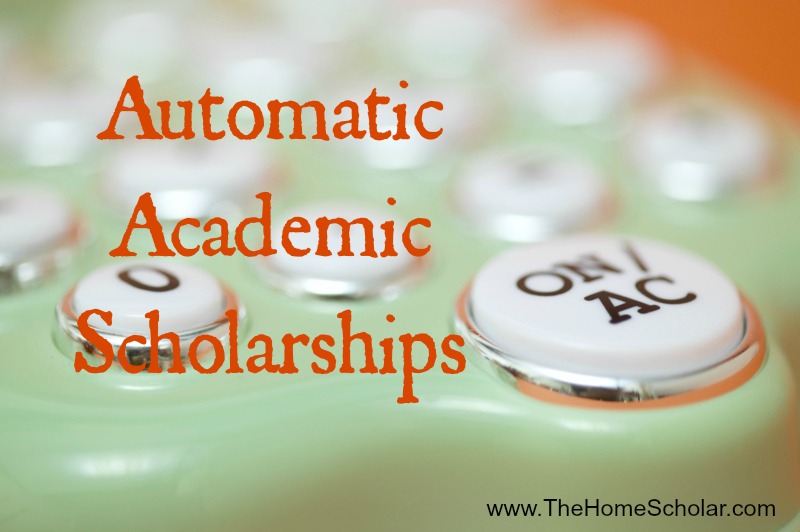 Automatic Academic Scholarships
Did you know that some colleges link scholarship amounts directly to a student's ACT or SAT score? They set a minimum SAT score and if the student meets or exceeds it, they receive automatic academic scholarships, often thousands of dollars per year, which could add up to tens of thousands of dollars over four years!
Sometimes these scholarships are based on the entire score, and sometimes they are based on only one or two sections of the tests. The parameters of these automatic academic scholarships change often, so be sure to check yearly, in case they change before your child is ready to apply.
The parameters can also be complicated. Sometimes they are based on the highest section score, regardless of the date taken. So if your child takes the test twice and tests better on the math section the first time around, that score will be used. If the language score is better the second time around, it will be the score counted for the scholarship. Your child could study for the math section heavily, then take the test. Then study for the reading and writing section heavily, and take the test again. Simple study, or even just having a "good day" when taking the test for the second time, can make a difference of thousands of dollars per year.
I suggest that parents have their children study for the SAT or ACT during junior year. Take the SAT or ACT early in the spring of junior year. Repeat the test again later in junior year, in June. That will give your child the best chance of earning college scholarships. When you're checking out colleges your child may like to attend, watch for automatic academic scholarships that will help make college more affordable!
Check out this example from the
University of Alabama Out-of-State Scholarships for 2015-2016
:
27 ACT or 1210–1240 SAT score plus 3.5 GPA = $14,000
28 ACT or 1250–1280 SAT score plus 3.5 GPA = $16,000
29 ACT or 1290–1320 SAT score plus 3.5 GPA = $49,900
30–31 ACT or 1330–1390 SAT plus 3.5 GPA = $66,864
32–36 ACT or 1400–1600 SAT plus 3.5 GPA = Full Tuition Scholarship ($99,800)
From this one college's example, you can see how studying for the SAT or ACT can earn guaranteed scholarships for SAT scores above 1210 (reading and math scores) and ACT above 27. If your child studies just a LITTLE bit more, it saves you $2000, for a slightly better score! But watch how increasing the score can jump up the scholarship amounts a LOT with tons of study. The more your child studies, the more scholarships they can earn. It's definitely worth it!
Have you found any automatic academic scholarships when checking out colleges? Please share!

Please note: This post was originally published in November 2012 and has been revamped and updated for accuracy and comprehensiveness.
When you apply to colleges, you need a great homeschool transcript. The good news is that you can "do-it-yourself," and save thousands of dollars. Discover how with the Total Transcript Solution.