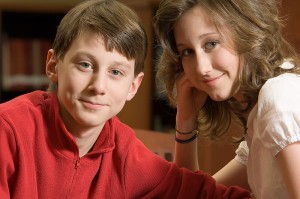 Each stage of life can bring unique challenges, but 7th grade?!  Yikes!  It can seem so scary!
Here are some suggestions for parents of middle school students.  Try these first, before having a major melt-down, and most of your questions will be answered.
Make sure you are on my free newsletter list, and start reading it regularly:
The HomeScholar Record
.  Then read the article called:
Taming Middle School Anxiety
.
I created a DVD intended to take the fear out of homeschooling high school, and it's a perfect overview for parents of 7th and 8th graders who are wondering what changes you need to make for high school.  This DVD is perfect for people thinking about high school, when they aren't even sure which way is up: 
Preparing to Homeschool High School
. That's usually all you need to feel comfortable with high school before it actually begins.
Some parents, though, have a specific concern that causes palpitations.  If you concerns are mostly about tests, and acronyms like SAT, PSAT, ACT, AP, and CLEP freak you out, then this CD will help.  It covers all the tests for high school: 
High School Testing
.  If your biggest concern is the transcripts and course descriptions, then you'd be a good fit for my book,
Setting the Records Straight
. If you want to get a better deal, check out the
Convention at Home Kit
because it provides one of everything with a huge discount for buying them together.
Now I've shared ideas for how to avoid panic.  Now let me share what NOT to do:
1. Don't try to do 4 years of high school before Freshman year
2. Don't try to write course descriptions for classes you haven't begun yet
3. Don't think you have to change everything to homeschool high school
4. Don't make your children take tests for high school when they are in junior high
5. Don't expect your children to demonstrate "senior" behavior the first day of freshman year
Just take it one step at a time.  You'll do great!  Believe me, if I can do it, anyone can!

Homeschooling is NOT the same as doing schoolwork at home.  There is LOTS of freedom!  My Gold Care Club will give you all the help you need to succeed!