2 Key Writing Skills for College Readiness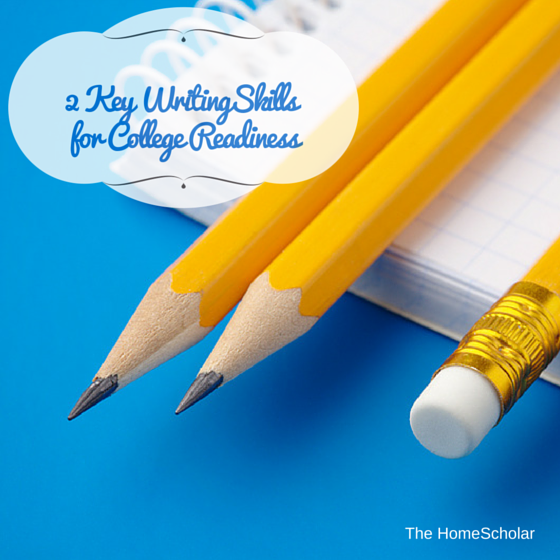 2 Key Writing Skills for College Readiness
Spend about 1-2 hours a day on English skills in your homeschool high school. High school English class should include about 30-60 minutes of writing almost every single day. Sometimes this includes research, and sometimes a short essay or even poetry or public speaking could be included. There are two key writing skills that are important for college readiness.


Writing a short, handwritten essay.
Give your child a writing prompt and have them write for one hour in order to produce a 2-3 page paper at the end of the hour. Being able to write an essay is an important skill for the SAT or ACT, and also for essay tests your child may take in college. You can use the book 501 Writing Prompts for short essay topics early in the high school years. Later in high school, you can use essay prompts for the SAT or ACT so your child is learning to write an essay and doing test preparation at the same time.


Writing a long research paper.
Have your child decide on a topic, research it, develop an outline, create a rough draft, and then incorporate feedback into a final draft. These papers can be done on the computer. On average, students should write a 5-10 page paper that takes about two to four weeks to complete, from the beginning idea to the final product. Early in high school, these papers might be on high school subjects, such as history. Later in high school,  college application essays can help your child learn how to write a paper and prepare for college applications at the same time.


Early in high school, the student may use workbooks to learn writing skills, such as grammar, editing, spelling, or vocabulary workbooks. Later in high school, most of the time spent learning writing is through writing - daily practice of putting pen to paper (or fingers to keyboard).
High school English should also include about 30-60 minutes of reading every day - sometimes this includes novels, other times it will include reading research, going to the library, or non-fiction books. Literary analysis is optional, not required.
There are a million other things you
could
include with your high school English class, but many of them are optional skills. The keys to succeeding in college will depend on the ability to quickly write a handwritten essay, and to be able to write a longer paper on the computer for college assignments.
For more help with English, consider picking up my Coffee Break Book, 
Easy English for Simple Homeschooling: How to Teach, Assess, and Document High School English
, for a short read.

Stay Informed
When you subscribe to the blog, we will send you an e-mail when there are new updates on the site so you wouldn't miss them.
Comments
2
I can't rave enough about Write Shop for a high school credit! The program is very parent friendly, and taught me how to grade my child's papers. Once completed, the student is writing college level papers and after the program, we have our student write a timed essay once a week in prep for the SAT & ACT. You can do the program in a 1 year, 2 year, or 3 year tract. We chose the 3 year and started in 8th grade. Written by 2 homeschool moms, I can say without a doubt my children became wonderfully skilled writers with this program!! Can be bought at writeshop.com
I can't rave enough about Write Shop for a high school credit! The program is very parent friendly, and taught me how to grade my child's papers. Once completed, the student is writing college level papers and after the program, we have our student write a timed essay once a week in prep for the SAT & ACT. You can do the program in a 1 year, 2 year, or 3 year tract. We chose the 3 year and started in 8th grade. Written by 2 homeschool moms, I can say without a doubt my children became wonderfully skilled writers with this program!! Can be bought at writeshop.com
Thank you, Colleen!
I always appreciate knowing what other moms like!
Blessings,
Robin
Assistant to The HomeScholar
Thank you, Colleen! I always appreciate knowing what other moms like! Blessings, Robin Assistant to The HomeScholar