Join me for fun and games, laughter and friendship, giveaways and prizes!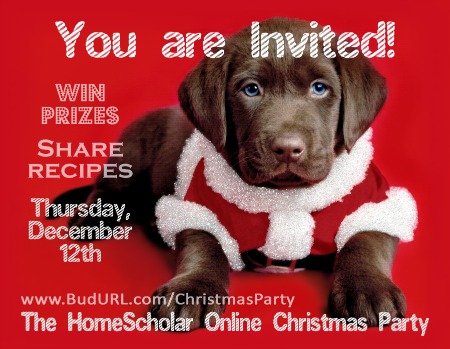 The HomeScholar Online Christmas Party is going to be SO much fun! It will be just like a regular Christmas party, only it will be completely online.
We will have a holiday recipe exchange, play party games, share white elephant gifts, and you'll even get party favors! While we are together, you can ask me anything about homeschooling high school while we are chatting and laughing. It's not a bother, just bring your questions and we'll sip hot chocolate and talk about it.
Feel free to show up in your sweats or jammies – you can even wrap your gifts while we party, I don't mind! Just pay close attention so you can jump up and win some great prizes when the time comes! I can't think of a better way to spend a December evening than celebrating with YOU!
Date: Thursday, December 12th
Time: 5 pm (pacific time)
Reserve your place now!
Register for the party here
This year I have friends from 21 wonderful businesses that are providing OVER 40 PRIZES!  Plus, we'll have freebies for everyone even if you're not one of our lucky 40 winners. I'm so thankful to these organizations for contributing!

A Journey Through Learning
$30 gift certificate for instant download resource
Retail Value: $30.00
This $30 gift certificate is good for any instant download resource from the A Journey Through Learning Store.
BibleMesh Biblical Greek or Hebrew Curriculum Level 1
Retail Value: $525.00
In BibleMesh Level 1 Hebrew or Greek, you will learn grammar and vocabulary as you translate the books of Jonah and Ruth or the Gospel of John. Accessing our online course at your own convenience, you will read text-based resources, watch instructional videos, listen to audio recordings, use our cutting-edge vocabulary building application, and engage our extensive assessment tools. Using this combination of learning methods, you will master Level 1 grammatical concepts, learn the necessary vocabulary of the books you are studying, and take an important step toward being able to confidently read the Old or New Testaments as originally written. For this giveaway, you have the option of 12 months free access to either Greek 1 or Hebrew 1, compare to 1 semester seminary level course, a $525 value!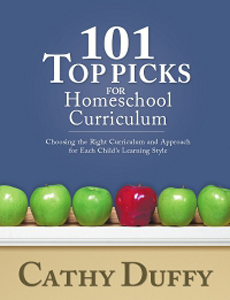 Cathy Duffy Reviews
101 Top Picks for Homeschool Curriculum (ebook)
Retail Value: $23.99
101 Top Picks makes it easy to find the best curriculum choices for each child and each family.Cathy walks you through the curriculum selection process, helping you set goals and discover what approaches you prefer. Identifying your children's learning styles and your own teaching style then helps you fine tune the process. Using what you have learned, you are then ready to match up your preferences to the 101 best products on the market as you use the at-a-glance charts to identify your best prospects, then read Cathy's detailed reviews to make your final selections.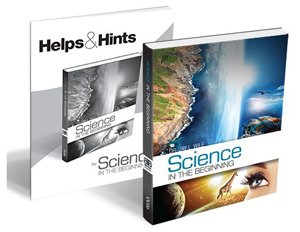 Dr. Jay Wile, Bearean Builders Publishing
Science in the Beginning
Retail Value: $39.00
Hands-on elementary science course that uses the creation days as recorded in Genesis to introduce scientific concepts.
WordBuild®, A Better Way to Teach Vocabulary™
Retail Value: $82.99 (Foundations Level 1) or $79.99 (Elements Level 1)
Winner chooses between Foundations Level 1 (grades 2-5), which focuses on prefixes and suffixes, or Elements Level 1 (grades 6 and up), which focuses on Latin and Greek roots. Each level of WordBuild takes10-15 minutes per day and requires no memorization!
Stock Market Basics
Retail Value: $37
Learn to invest in the stock market like a pro in this four session class beginning January 23rd. Junior High and High School students love setting up a virtual portfolio and tracking their progress, and competing with classmates to be the big winner.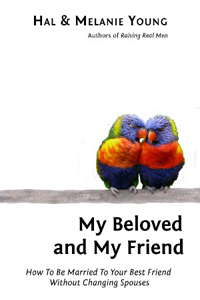 Hal & Melanie Young, Great Waters Press
 (Pre-Released Copyby Hal and Melanie Young of) My Beloved And My Friend: How To Be Married To Your Best Friend Without Changing Spouses by Hal and Melanie Young
Retail Value: $15.00
We all want our marriage to give us love, romance, security, respect ... a source of happiness. We want it to be holy, happy, and fun. Is that even possible? Yes, indeed! Take a Biblical look at what your marriage can and should be, and find practical ways to make your mate your best friend. From the authors of Raising Real Men: Surviving, Teaching and Appreciating Boys.
Home School Adventure Co Digital Bundle
Retail Value: $69.85
The Home School Adventure Co. Digital Bundle will include: Philosophy Adventure™Philippians in 28 Weeks™ eBook, The Wise Woman with Literary Analysis Journal Questions eBook. Through these resources, you will learn: how to write skillfully, think critically, and speak articulately as they explore the history of ideas. Memorize the entire book of Philippians in 28 weeks! How do you train a heart? To love what is right, pure, and true.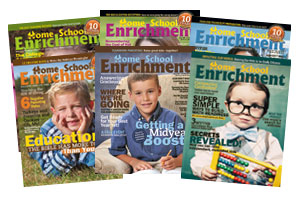 Home School Enrichment Magazine
Home School Enrichment Magazine
Retail Value: $21.97
A one-year subscription to Home School Enrichment Magazine, featuring encouragement, inspiration, practical help, teaching ideas, product reviews, and more, all from a Christian perspective.
Rock Hound's Backpack Kit
Retail Value: $84.95
This backpack, from Home Science Tools' line of hands-on science kits, is designed to help get kids excited about science. Like all our products, this backpack is full of real tools that make learning science fun for kids (and easy for moms)! Click through to see the complete contents of this bestselling backpack kit.
6-Month Super Membership
Retail Value: $55
On the 15th of each month, Super Members receive two free downloadable Project Packs (a lapbooking and/or noteboking unit) that download right from their customer account. Each Lapbook and Note Pack unit includes a Planning Guide, Hands-On Activities, Research Guide, and Answer Key (where applicable) and is a brand new title.  Super Members also receive:


15% discount off all 

eBook Lapbook units

 (15% discount excludes custom ordered units and sales and promotions).


A free Birthday Lapbook unit, and $10.00 off the price of any custom order unit.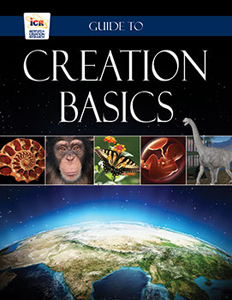 Institute for Creation Research
Guide to Creation Basics and Guide to Animals
Retail Value: $16.99 for each book
Guide to Creation Basics: This comprehensive 120-page guide, authored by ICR scientists and scholars, is loaded with hundreds of full-color illustrations — the one book you need to teach creation! Build your child's confidence in biblical creation! Cutting-edge scientific information and full-color illustrations. Homeschoolers have trusted ICR resources for over forty years.
Guide to Animals: How do fish breathe and birds fly? Why do some animals migrate and others hibernate? And what happened to the dinosaurs and other extinct animals? Get the answers from zoologist Frank Sherwin in ICR's upcoming new book Guide to Animals! This beautiful hardcover edition is loaded with full-color illustrations, fun facts, and the science about some of your favorite animals in creation!
Seasons at Home Magazine 2013 Subscription
Retail Value: $14.95
Seasons at Home Magazine is a wonderful, God honoring magazine, that ministers not just to the homemaker, but to the heart of the whole family! You'll find a variety of different topics to enjoy that include Titus 2 fellowship, sewing and embroidery, whole grain cooking and baking, themed teas for the little girls, and special projects for father and son as well.
Secrets of Success for women: Time Secrets of Success for women: the Home
Retail Value: $10.78
These pocket guides are short and full of helpful tips and creative solutions for managing time and the home. Time topics include setting goals, prioritizing, seven stress-busting techniques, when to say "yes," ways to say "no" graciously, sprinkling joy into days, overcoming procrastination, eliminating time-wasters, maximizing time with God and family, timely home management, and God's time promises. Home topics include ways to treasure family, blessing the home, conflict resolution, character development, Christ in hard times, peace in the home, and servant love.
Cracking Up: A Postpartum Faith Crisis by Kimberlee Conway Ireton
Retail Value: $14.95
By turns hilarious and heart-breaking, this debut memoir takes you on a roller coaster ride of hormonal disequilibrium, professional disappointment, hellacious sleep-deprivation, and the black pit of postpartum depression only to bring you laughing back to the light. If you've ever wondered where God is in the mess of your upended life, come along with Kimberlee as she learns a a whole lot about clinging to God (mostly by her fingernails) and finding  grace and goodness in the darkest of life's corners.
Isabel Writing Bundle
Retail Value: $36.35
Each of the 12 lessons teaches the basics of creative writing where both the student and her characters grow in faith towards God.
Isabel's Closet - Paper doll and craft book - Create your character for the story, then as a paper doll, make her closet and design her clothes. Role play the adventures as you go!
Isabel's Secret - Wholesome mid-grade novel for tweens about the real Isabel who lives on Angel Ridge Horse Ranch. She is a dedicated Christian girl who solves mysteries with her best friend, Holly, and horse, Starlight. Ages 8-12
Introductory Physics: A Mastery-based Curriculum
Retail Value: $75.00
Novare (no-VAH-reh) is bringing an exciting new option to science education. For students who are taking Algebra I concurrently, this text embodies the principles of Mastery, Integration and Kingdom. Our mastery paradigm improves retention and facilitates the grasp of essential skills such as unit conversion, scientific notation and technical writing. Course content is fully integrated with mathematics, epistemology, history and other subjects. And our "Kingdom perspective" models an elegant and mature Christian approach to science.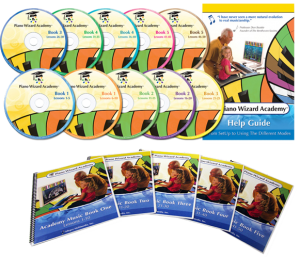 Piano Wizard
Retail Value: $399.99
Let your high schooler teach him/herself how to play the piano...the easy way. A complete piano learning system designed to simply and intuitively teach you and your children how to play the piano. It requires no previous experience and it makes the process fun. At the core is an engaging computer game that slowly and naturally progresses toward basic and advanced piano learning concepts.
A Christmas Gift for Rose and The One Year® Book of Amish Peace
Retail Value: $31.98 (15.99 each)
A Christmas Gift for Rose: Rose turned her back on the man she loves after he assisted the Englisch during World War II---only to discover she's an Englischer herself. Born in the midst of the hardships of The Great Depression, Rose grew up in Berlin, Ohio, in the arms of a loving Amish family. But she is overwhelmed by self-doubt when she learns that she was born Englisch and abandoned when her family moved West in search of work. Was she meant to be Amish or would she have been better off growing up with her own kind---Englischers? When the man she loves leaves her behind, Rose is certain he left for good. Yet Rose discovers sometimes our greatest gifts are the ones we fear.
The One Year® Book of Amish Peace: In our instantly connected world, it's surprisingly easy to lose our connection to God. This devotional taps Amish wisdom in order to help us draw closer to God and hear his voice. In The One Year Book of Amish Peace, you'll get a daily taste of Amish values and wisdom. Tricia Goyer shares her fascination with the Amish in a way that will inspire and encourage believers to carve out more time in each day to listen to God and experience his presence. This daily devotional contains interesting facts about the Amish, recipes, and information about the way the Amish handle money, rear their children, and center their lives on faith in God. You'll be inspired to slow down and find ways to simplify so that you, too, can experience God in the ordinary.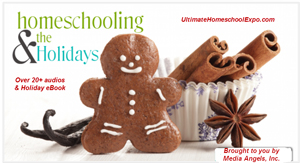 Ultimate Homeschool Expo, Media Angels
Homeschooling & the Holidays
Retail Value: $19.95
The holidays season will soon be upon us, What STRESS?! This set contains 28 audios on how to survive the holidays with flying colors, including stress busters and finding real joy with your family.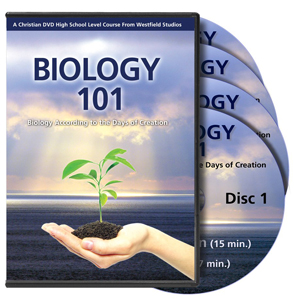 Westfield Studios, The 101 Series
Biology 101
Retail Value: $69.95
A stress free science curriculum on DVD from a Biblical perspective. Easy to use. Understandable. Visually Rich.