If your child enjoys being part of Boy Scouts, consider yourself blessed!   Scouting can be one of THE ABSOLUTE BEST things you can do for college!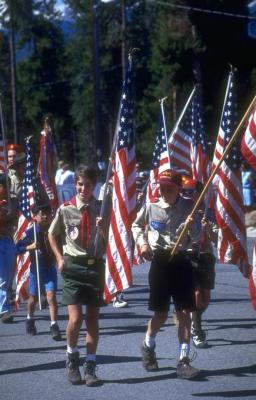 If your child is working toward an Eagle Scout, it can almost guarantee success.  Every single thing you do in scouting is educational and can be put on the transcript somewhere. Usually I see the hours spent with Boy Scouts recorded as PE.  All of the camping and hiking can be part of his PE credit.  There are a million names you can call it - you can use names on the badges, too.  Just estimate hours ("16 hours this weekend plus 40 hours that week equals...." that sort of thing.)  But in general, when your child is involved in scouting, and they do the scouting activities that are required, my job is just to remind you to include those in your PE hours.
Some kids focus more on academic activities within scouting, and others focus on the physical activities. 
Remember the Golden Rule of Credits:  No Double Dipping
.  When you count the hours of scouting, you can't use the same hours for two different classes.  You can, however, say that some scouting hours are for PE and the other scouting hours are for volunteer work or other classes.  Although double dipping is a no-no, for many kids there are more than enough hours in their scouting year to cover more than one course.
Eagle Scout is "golden" and how it fits well with the Congressional Award.  Here is the link if you want to read more about the
Congressional Award
.

When you are applying for colleges, you will need a great homeschool transcript.  The good news is you can "do-it-yourself" and save thousands.  Discover the
"Easy Truth About Homeschool Transcripts."