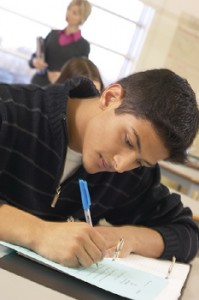 How do you interpret your student's SAT score?  Anything over 500 is average, and anything over 600 is good. A perfect
score on the SAT essay
is 24.
Studying for the test, and taking it again can be a GREAT idea that could save you $10,000 per year on college costs, depending on your situation.
Explain to your child that they don't have to get "smarter" when studying for the SAT. They only needto practice, and practice alone can increase their score. As your child takes sample tests, the questions will become more and more familiar, until they start to recognize the math questions and the kind of essay prompt provided. Practice will increase your child's speed filling in the bubbles, and they will get to the place where they won't even need to read the directions on each section.  Your child will also be familiar with the school testing environment now and just knowing exactly where the bathroom is located can raise her score!
So to study ...  if you have extra money you might sign your child up for a test preparation class in your local area. It's MUCH cheaper to buy a $20 book from the bookstore and study at home. Take the book, and cut out one whole test at a time, separating the bubble answer sheet, so your child can practice filling in the bubbles on a different piece of paper.  Do one section of each test once a day, each day before going out to play.  If morning is a "problem time" for your teenager, you might even consider doing it first thing in the morning, so the "morningness" of it seems familiar too. Have your child complete one section per day, timed. When the timer goes off, your child can correct their own work. Your student can look up their wrong answers, and read the explanation for just those questions.
Easy, peasy, cheap tip for getting big scholarships. Think about it this way, if you get $10,000 in scholarship money, what is the hourly wage for all the study time? Good!  It's a great investment in your time!

Subscribe to my YouTube channel.  You'll  get notified when I create new videos on homeschool high school topics!
Please note: This post was updated in February 2016 to reflect the new SAT.