Lee, I know your boys did the "CLEP route" before going to college. Did this shorten the number of credits they had to take in college?  And, are you familiar with the program College Plus? Do you have any thoughts on this company? Thanks,
~ Kitty in Washington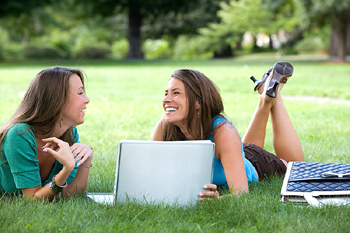 We did use CLEP to achieve one year of college by exam.  The biggest deal is to make sure the university you want to go to will accept those credits. The college my children attend, Seattle Pacific University, accepts one year of credit by exam.  We also had one year of community college, so they both ended up beginning the university as a junior.
Because of their full tuition scholarships, we were not constrained by finances, and the kids were allowed to take 4 years to graduate anyway.  For my son the engineer, it was imperative to take four years. 
For an engineering student, it's extremely difficult to accelerate a four year degree.
I've know kids with an A.A. degree from community college who STILL take four more years to get an engineering degree from a university. My guess is that most hard sciences are the same way - difficult to speed up.  I do know one biology major who graduated in two years, I guess.  But that's only one.
My younger son the political science major has also gone to the university for 4 years, but in his case it was optional.  As a social science major (politics and economics) it would have been easy for him to graduate within two years.  Because he was young, we told him to take any classes that he wanted to and graduate in four years.  He took additional French, Latin, Math, Piano, and Philosophy classes just for the love of learning.  He is also graduating after four years, but he could have easily graduated in two years.
CLEP
can
shorten the number of credits you take in college.  It depends on the college policy about CLEP, and it also depends on your major and  whether it is possible to CLEP the classes that you need.  We found that CLEP not only gave us college credits, documenting our homeschool and greatly strengthening their application, which helped them get great scholarships.
The unexpected benefit of CLEP was being able to afford four years of college after all!
I'm very familiar with
CollegePlus!
I think they are a great organization, with a great Christian worldview.  They are most helpful with for degrees in the humanities, business and computers fields. There are fewer choices for engineering or the more technical fields of study.  Here is a
link to the degrees
they can assist with. They also offer a wonderful mentoring program for students as they work through their college course of study.
If you only want to homeschool college for a year, or if you are highly organized and motivated to do it yourself, it's completely possible to work
independently.  I recommend that you read these two books on the subject:
Accelerated Distance Learning
and
Bears' Guide .
I do have a website devote to
homeschooling college
.
Finally, here is a
blog post
I've written about this issue in the past.

The HomeScholar Gold Care Club will give you the comprehensive help and individualized coaching you need to
homeschool high school
.