Hey, can you do me a quick favor?  I'd love for you to run over to my
Facebook page
and give me a quick "like".  It only takes a second, you know?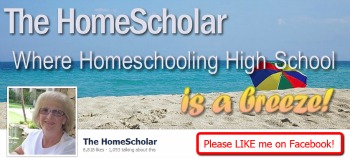 By the way, in case you don't know, when you "Like" my page, it doesn't mean you see all my posts.  To actually SEE my Facebook posts in your news feed, you have to add me to you interest list, and then click "Show in your news feed." (As with all things technical, if you don't know how, just ask your teen! LOL!) Thank you, Facebook, for making life just a little more complicated!  Sheesh! In any case, I'd really appreciate a quick "Like."I try to make my Facebook wall worth  your while!  I always mention my books on Kindle when they are free, and try to keep you up to date with tips for homeschooling.  Plus, it's just plain fun to be together on Facebook, and share stories and giggles!
So just a quick LIKE if you please! Thanks so much!