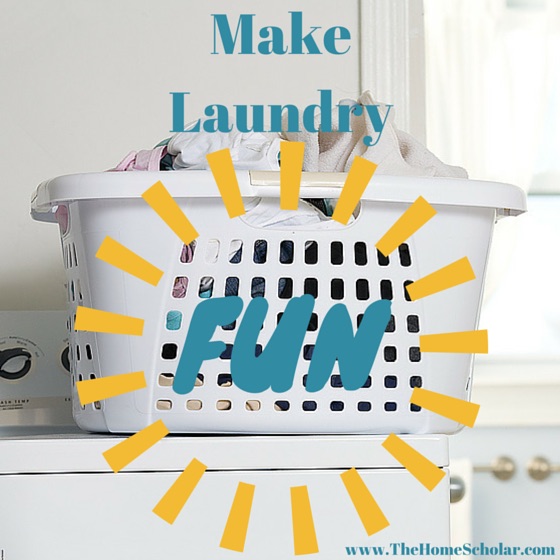 Make Laundry Fun

Anne, one of my Gold Care Club members, takes her laptop into the laundry room and listens to my classes while folding laundry.

Anne says, "You make folding laundry so much more fun, now!"

Funny thing ... I mentioned that Anne folds laundry while listening to classes during my online class the other night, and she was in the class with me! The next day she wrote to me again:
"Thanks for the shout out during class tonight - I was actually folding laundry AT THE TIME, and just had to smile! What you shared tonight was great. If I were just beginning ... knowing what I know now ... I'd snap up your new product in a minute! As it is, I'm getting a lot of benefit from the Gold Care Club. Thanks for being on the other end of the line!" ~Anne

You can make laundry fun!

Take some continuing education classes online. Listen while you are folding laundry. It's the new version of "whistle while you work." Sadly, nobody has developed the app that makes birds complete household chores for you yet, like in Snow White. Just give it time.

I have a few ways to help you get continuing education! Pick me! Pick me!

I developed the High School Solution for my pastor, who was beginning to homeschool for the very first time. I collected a bunch of classes to give him and that's when I realized that other parents might benefit from them, too. Many of my members are asking how the Gold Care Club compares to The High School Solution.

Normally I would suggest either one or the other, not both the Gold Care Club and The High School Solution. All the classes in the High School Solution will eventually be provided through the Gold Care Club over the course of the year. Nothing in the High School Solution is "new" and I could give you any class you needed, if you needed it. However, each solution is a bit unique.
Which one to choose, Gold Care Club or The High School Solution?

The Gold Care Club is intended to give you the most personal support. It's perfect for social learners, or those who love encouragement. And with the Gold Care Club you can get any class you need or ask for, one at a time. If you want encouragement or learn best with one-on-one attention, this option is is for you.

The High School Solution is designed for parents to learn independently. It's a group of many classes all in one place. You can work through them at your own pace, whenever you like. Some people just like things all in one place, rather than having to ask me for them. If you are a very eager learner, this option is for you.

If you have any questions about the Gold Care Club or The High School Solution, please let me know!











Click to Join my Newsletter!