How much is enough?  How long should they work?  It's not always easy to know!  One mother asked me to review her school plan, wanting to know if her expectations were appropriate.
We're off to a rough start this year due to bad attitudes (both kids and mine!).  In 10th grade, how many hours/day/subject should she be doing?  So far here's what's suppose to be done:

*Music - 1 hr,
*English (IEW student writing intensive B) - 30-60 min,
*History (watching Teaching Company World History and reading ancient Greek & Roman library books) - 30-60 min
*Science (Apologia's Marine Biology, Teaching Company Chemistry videos  - are they stand alone or should they be a supplemental, and what do you recommend we use?) and possibly switching to them instead. - 30+ min
*Technology (typing) - 10-15 min
*Health (Total Health book) - 20-30 min
*Foreign Language (Rosetta Stone Spanish) - 15 min
*PE - walking or general outside time - 15-60 min

PE "class" is taking several "sanity" breaks from indoor school and getting away to the outside and swing on her swingset! She would be out there all day if she could!  I wish I could find how to combine her lessons while she was out there swinging! Also, when I schedule reading assignments, how much can I expect her to get done?  She's a great reader but when I told her to have a 300 page book done in a week, she pitched a fit and didn't get it done.
~Karen in Maryland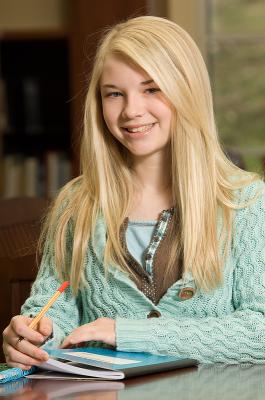 Hi Karen,
I'm so sorry it's a rough time!  In general, high school kids might have about 6 to 8 hours of school each day.  Let's see what you've got here!
Math looks good, but to be honest it usually takes an additional hour of "homework" in the evening and that's OK.  History is good, and about the right amount of time.  Do either marine biology OR chemistry, but don't do both.  The marine biology is a stand alone course.  The chemistry is more of a supplement.  It would be a great supplement to Apologia chemistry, but again - just don't do both! Science should usually take about an hour each day, but be sure you aren't doing both kinds, because that would be doubling up!
Technology is fine - is it required by your state?  Can she already type?  If so, you can drop it.  Health looks good, it's 1/2 credit usually.  Foreign language, can you work for 1/2 hour per day?  That will allow more forward progress. You might not get a level done in one year at the reate of 15 minutes  a day.  PE is fine, but not required for everyone, or by every state.  You can consider Health to be part of your PE class, and cut down on the amount of time spent outside.  On the other hand, fitness is the #1 priority sometimes, so you know best.
It looks like your expectations of her time are just right!
Combine lessons while swinging?  She must be a kinesthetic learner!  I often suggest listening to Teaching Company lectures on audio while doing vigorous activities.  It works with aggressive boys and kinesthetic learners alike!   The Spanish would be GREAT - she would REALLY do a good job if you had her listening to Spanish out there!   Check out audio courses and audio books that she can do while swinging.  I was watching the Pride and Prejudice movie the other day, and the Jane Austen character spent a lot of time reading while swinging on a swing!
Reading varies WIDELY WIDELY WIDELY between kids.   If she is concentrating on her reading, then I asked for about 1/2-1 hour a day - it's part of an English credit.   My kids liked reading, so they did it at night and I didn't usually "count" the reading hours, but that's just my kids.  Some kids only read 6-8 books in a year and others read far more.  My kids were able to read a long book (Pride & Prejudice) in about 3-4 weeks.  They might read a short book (Old Man & the Sea) in just one week.  You may be able to lighten up on that requirement, and she could end up reading more than you hoped for.  Include any reading for pleasure on her reading list, but you don't have to "assign" reading for pleasure.

Homeschooling is NOT the same as doing schoolwork at home.  There is LOTS of freedom!  My
Gold Care Club
will give you all the help you need to succeed!