When homeschool kids are younger, and someone asked about grade level, it's not uncommon for a parent to say, "Well...she is in third grade reading, 5th grade math, and can spell at a 7th grade level!" Rarely did you hear a parent come right out and say, "He is 7 years old, therefore he is in 2nd grade." However, in high school the pressure to assign grade levels can be intense.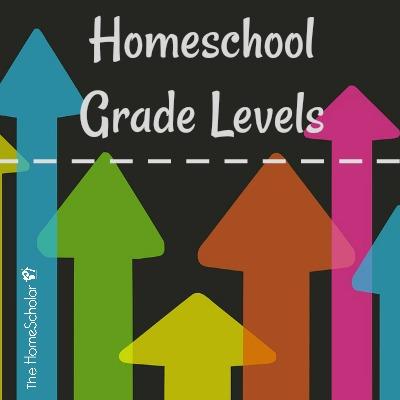 Homeschool Grade Levels and Graduation Age
Lee,
I have 2 high school-aged children. Many of my homeschool friends think that it is desirable to have their kids on a fast track to graduation. I don't feel an urgency to get them out the door - I want to make the most of these "high school" years. Is there something wrong with keeping my son, who will be 16 in December, a freshman? He is currently doing Apologia Biology, TT Algebra I, World Views of the Western World II, etc.) If he is considered a freshman this year, that would have him graduating at age 19 with 4 years of high school... Is this wrong?

Until my children entered "high school" I didn't feel the need to slap a grade level on them. They were ahead in some areas and behind in others. And I didn't really care what other people thought of that - we just plugged away. But as soon as they hit high school age grade level seemed to be the all-important thing and everything hinges on which grade level they are. I hate it. I have specific requirements that they need to complete before they "graduate" and I don't like the pressure we're feeling to get them on a fast-track to graduation....I would love to hear your thoughts on this, Lee. Thank you!

~ Michelle in Iowa



I agree with you that grade levels can be arbitrary. I think as homeschoolers we need to focus on what we are doing for our own children, because we know what our own children need; we don't know what other children need! Focus on providing a curriculum that is challenging and not overwhelming. Be sure to keep it academically rigorous and encourage them to do their best, but guard against burn out and overwork that can lead to frustration. Instead of giving a label of freshman at this point, I encourage you to take a step back again. When do you really need to label a high school student with a grade level Junior year.

Junior year is the only time you have to say, "THIS is their grade level." In junior year, when you indicate 11th grade on the PSAT, they can qualify for the National Merit Scholarship. In junior year, there are tasks that need to be completed, things that are unique to that year. You can delay making a label until junior year without consequences.

I know many homeschoolers who intentionally delay graduation. They may provide high school curriculum from the age of 14, but they continue to provide high school curriculum until the age of 19 or 20. They do that to provide additional maturity before their children move away from home. Parents are completely capable of making these choices!

There is one word of warning I can provide with my 20/20 hindsight and advanced age. Kids mature a LOT in the four years of high school. Imagine the difference between a 1 year old child and a 5 year old child. Think about the physical differences (toddling vs. biking, for example). Think about the intellectual differences (saying a few words vs. asking endless questions).

There is almost that much of a difference between the first year of high school and the last year of high school. At first it seems like your child could never possibly be ready for college at 18. And then one day it happens; they're ready!

Leave yourself some flexibility. When they look ready to move on, graduate them. When they are almost ready, make them a junior.

If your child is ready before others their age, or after others their age, it doesn't matter. Our job is to educate our individual child. You know your child best!

Is your child working ahead or behind their age level in your homeschool high school? Please share!





Please note: This post was originally published in November 2009 and has been revamped and updated for accuracy and comprehensiveness.

When you are applying for colleges, you will need a great homeschool transcript. The good news is you can "do-it-yourself" and save thousands. Discover the "The HomeScholar Total Transcript Solution."